Urdu is a language that has a rich and diverse literary heritage. Urdu poetry, in particular, is known for its beauty, elegance and depth of meaning. Urdu quotes, or aqwal-e-zareen, are short and concise expressions of wisdom and advice that can inspire and motivate us in our daily lives. In this blog post, we will share some of the most famous and impactful Urdu quotes that you must know. These quotes cover various topics such as life, love, motivation, success, faith and more. We hope that these quotes will enlighten you and help you to live a better and happier life.
Best Urdu Quotes
In this phase we will share the best quotes in urdu that will able you to express your thinkings and experiences. if you want to share your feelings with other than these best urdu quotes are the best way to express your feelings.
زندگی کی حقیقت کو بس اتنا ہی جانا ہے
درد میں اکیلے ہیں، خوشیوں میں زمانہ ہے
zndagi ki haqeqt ko bss itna hi jana ha
dard ma akely hn khushyoo ma zamana ha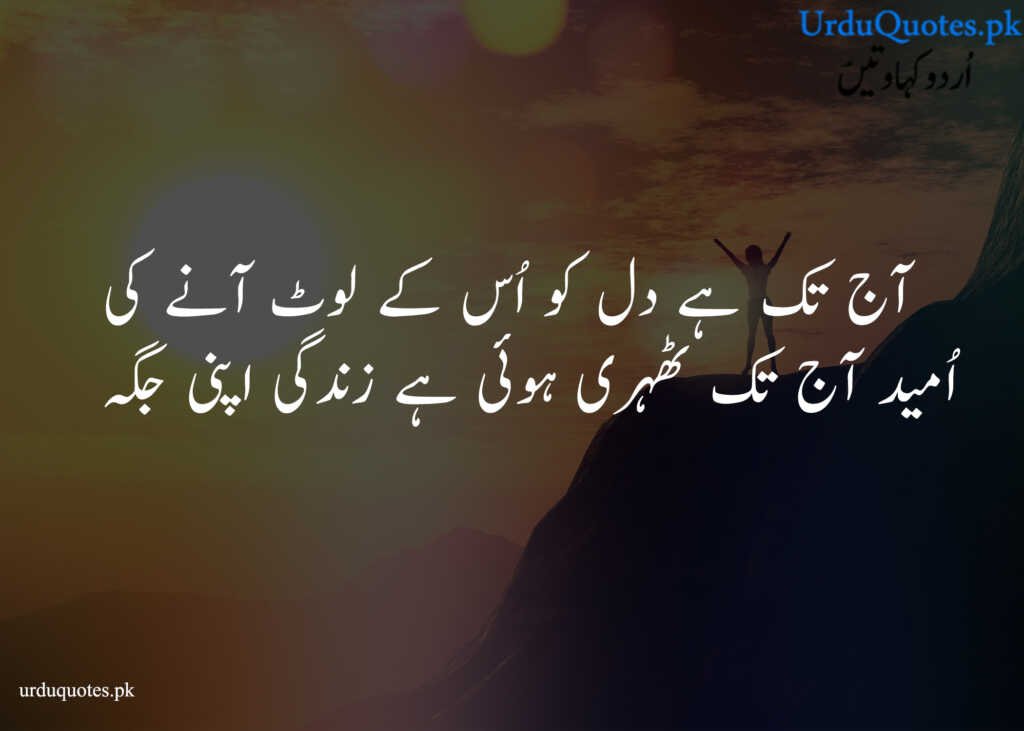 آج تک ہے دل کو اُس کے لوٹ آنے کی امید
آج تک ٹھہری ہوئی ہے زندگی اپنی جگہ
aaj tk ha dill ko uss ky loat any ki umeed
aaj tk tharhi hoi ha zidagi apni jaga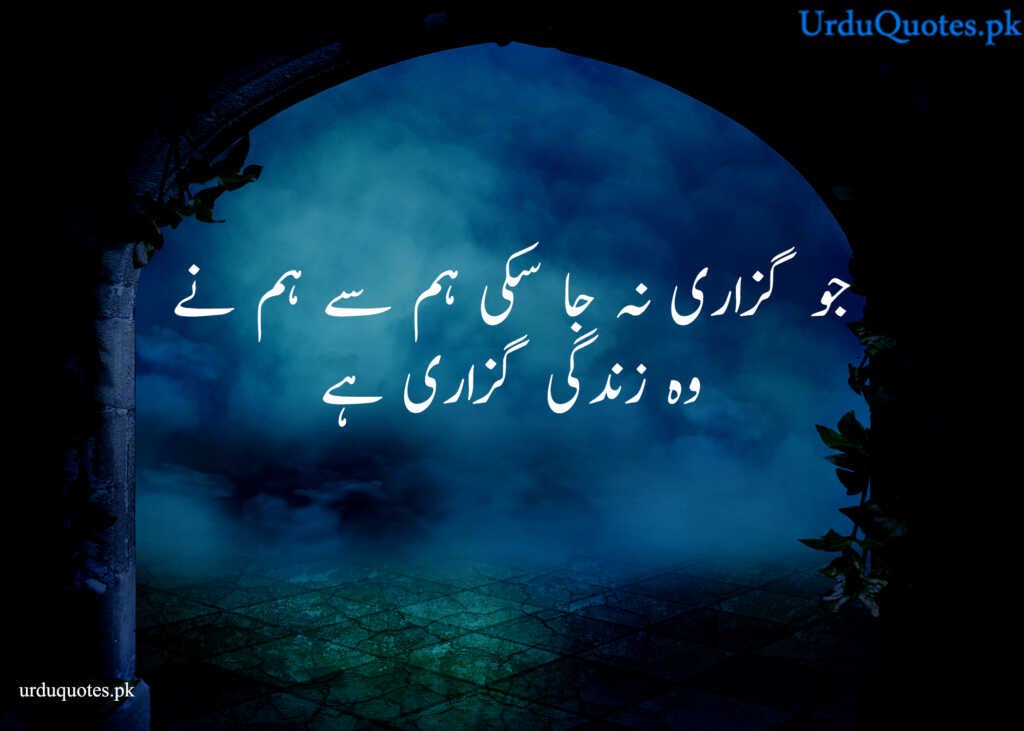 جو گزاری نہ جا سکی ہم سے ہم نے وہ زندگی گزاری ہے
jo guzari na ja saki hm sy hm ny wo zindagi guzari ha

شیر بھوکا رہنا پسند کرتا ہے کتے
کا جھوٹا کھانا کبھی پسند نہیں کرتا۔

Sheer Bhokha rehna Pasand Karta hai
Kuty ka chota khana pasand nahi karta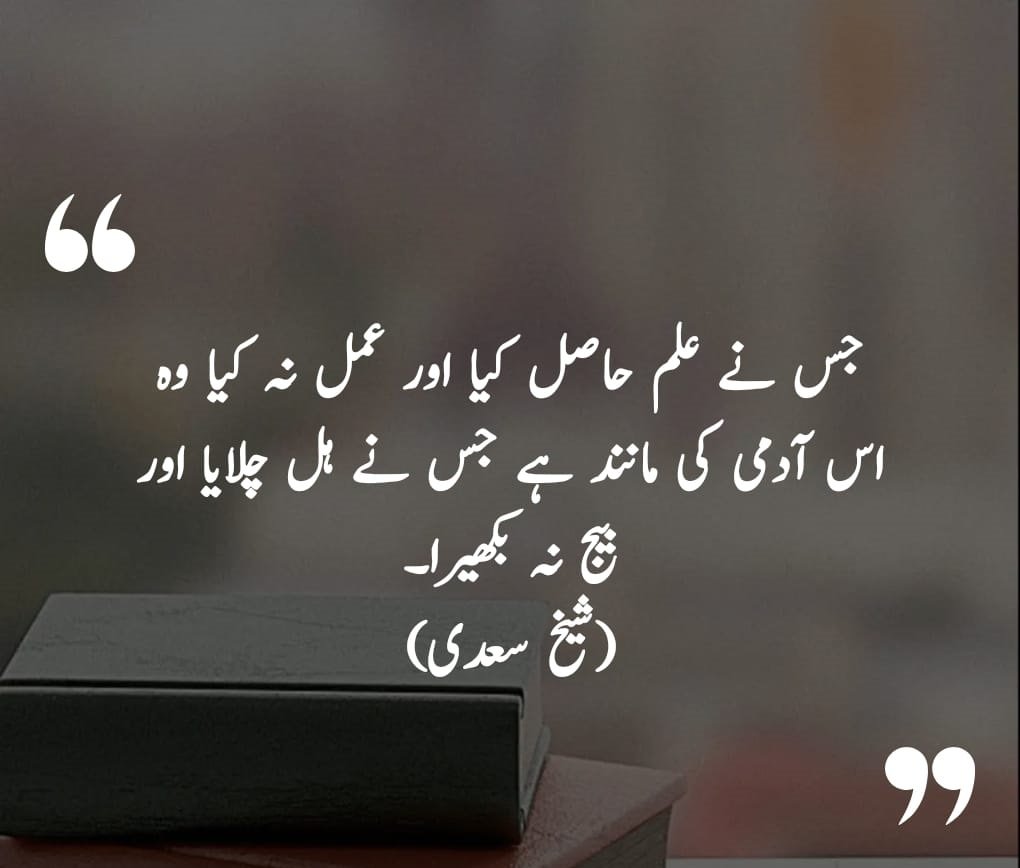 جس نے علم حاصل کیا اور عمل نہ کیا وہ اس
آدمی کی مانند ہے جس نے ہل چلایا اور
پیچ نہ بکھیرا۔
Jis ny Ilm Hasil Kia aur Amal Nah Kia Wo is
Admy Ki manind Hai jis ny hal Chalaya aur
Bheg na Bekhera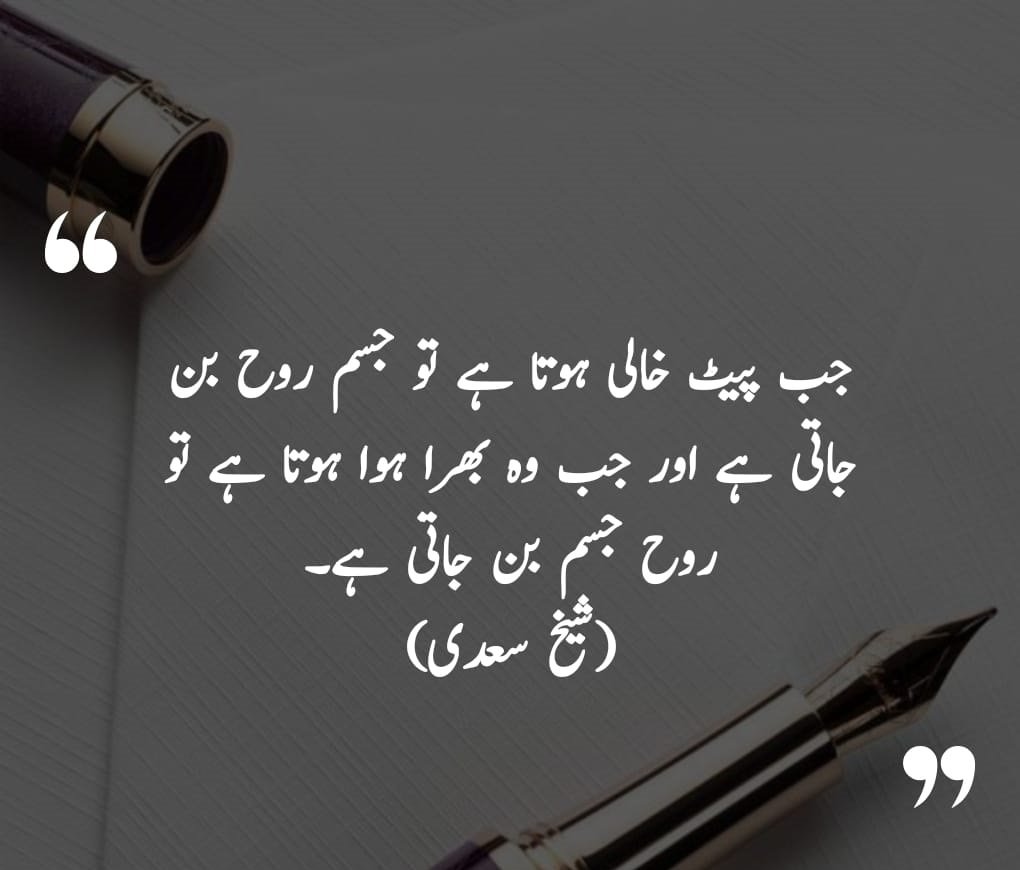 جب پیٹ خالی ہوتا ہے تو جسم روح بن جاتی ہے اور
جب وہ بھرا ہوا ہوتا ہے تو روح جسم بن جاتی ہے۔

Jab Pait Khali hota hai to jisam Rooh Ban Jaty hai aur
Jab wo Bahra howa hota hai to Rooh Jisam ba Jaty hai
Quotes about life in urdu
In this section well discuss urdu quotes about life. Theses quotes express the reality of life. People think that they will live here in this world but ALas! The y have to leave it one day.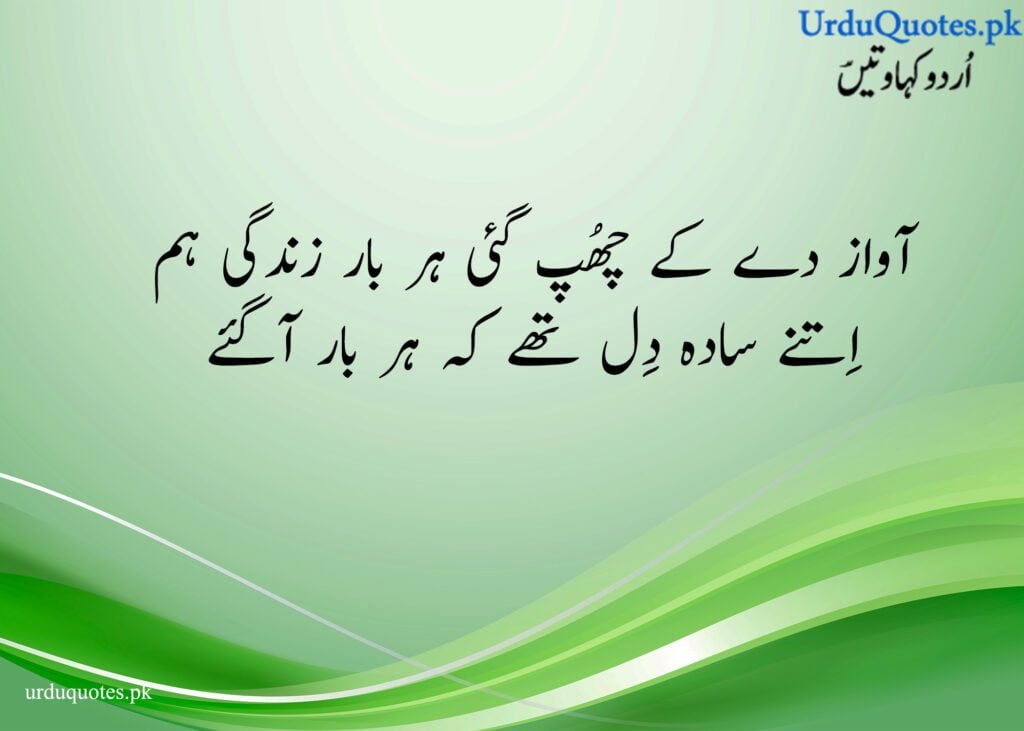 آواز دے کے چھپ گئی ہر بار زندگی ہم اتنے سادہ دل تھے کہ ہر بار آگئے
aawaz day ke choup gayi har baar zindagi
but hum itnay saada dil thay ke har baar aagaye
ہم رہتے تو ایک ہی دنیا میں ہیں سب کی دنیا الگ الگ ہے لیکن


ham rehty to is dunaya main hain magr
sab ki dunya alg alag hai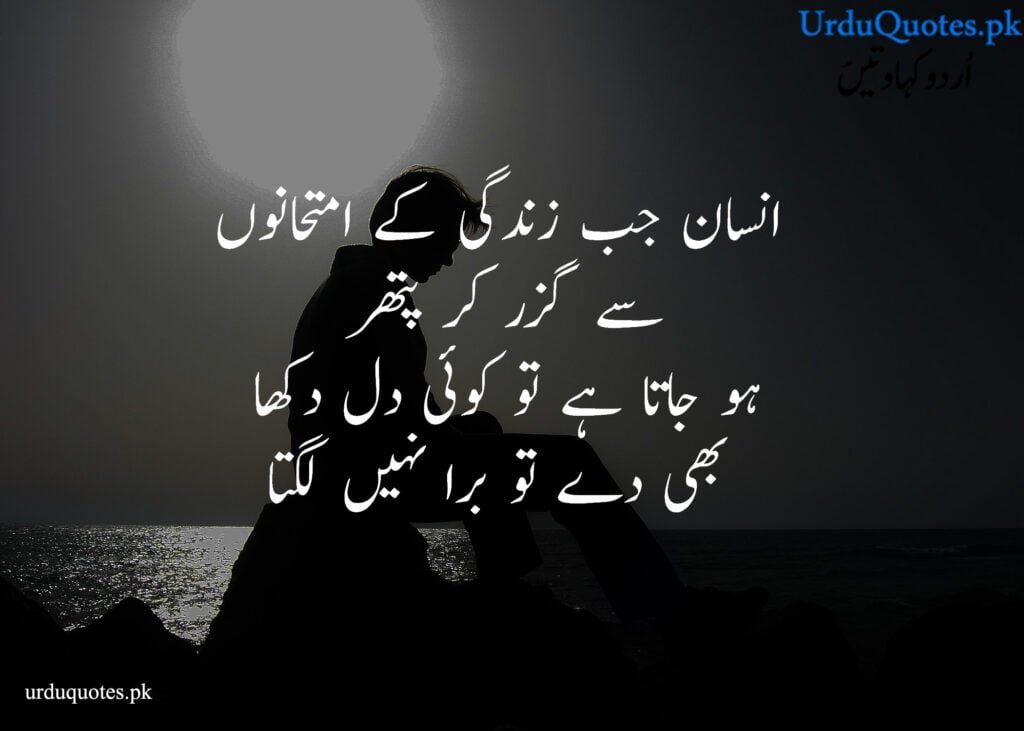 انسان جب زندگی کے امتحانوں سے گزر کر پتھر
ہو جاتا ہے تو کوئی دل دکھا بھی دے تو برا نہیں لگتا
insan jab Zindagi ky Imtahanoon sy guzar kar Pather ho
Jata hai than to koi dil dukha b dy to bura nahi lagta
زندہ رہنا چاہو تو موت قیامت ہے
اور مرنا چاہو تو زند کی قیامت ہے
Zinda rehna chaho to moot qayamat hai
aur marna chahon to zindagy ki qayamat hai
زندگی ہے یا کوئی طوفان ہے
ہم تو اس جینے کے ہاتھوں مرچلے
Zindagi hai ya Toofan Ham is
jeny ky Hathon Mar chaly
یہی اک سانحہ ھے اپنی زندگی کے ساتھ
نہیں نصیب میں جو اس کی جستجو رکھنا

Yahy ik saniha hai apni zindagi ky sath
nahi naseeb main jo is ki justjo rakhna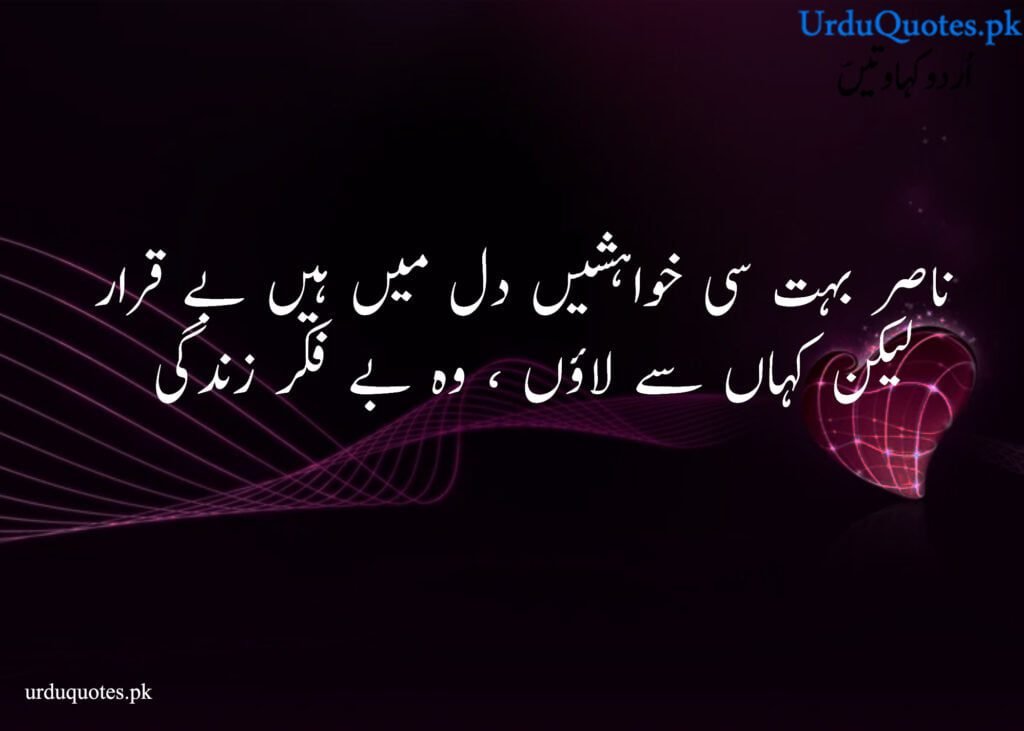 ناصر بہت سی خواہشیں دِل میں ہیں بے
قرار لیکن کہاں سے لاؤں وہ بے فکر زندگی
Nasir Bohot sy howahisain hain dil main
magr kahan sy laon wo byfikar zindagy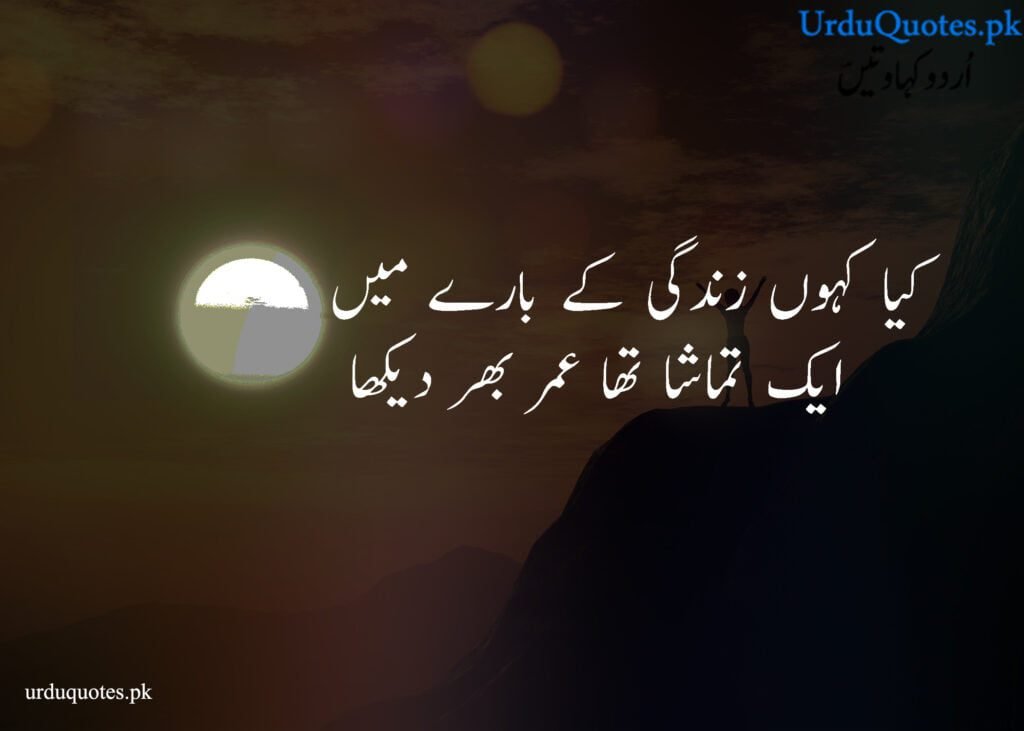 کیا کہوں زندگی کے بارے میں
ایک تماشا تھا عمر بھر دیکھا
KiA kahon zindagi ky bary main ky
Ik tamasha tha jo zindagi bhr deka

Motivational Urdu Quotes
Motivational quotes in urdu are the great way to motivate yourself or your loved one whom you yo want to motivate.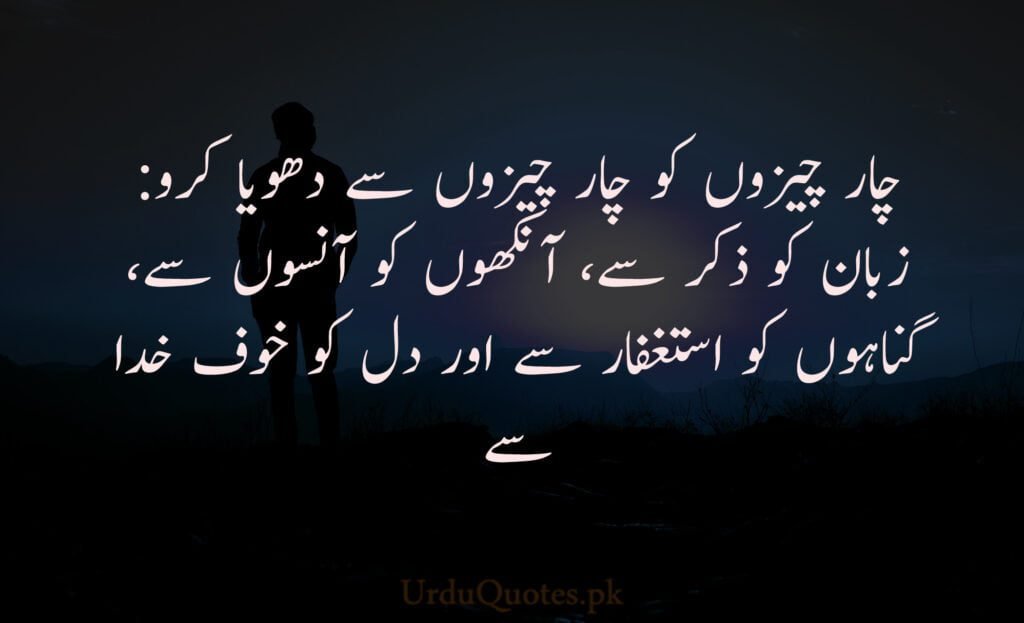 چار چیزوں کو چار چیزوں سے دھویا کرو: زبان کو ذکر سے
آنکھوں کو آنسوں سے، گناہوں کو استغفار سے اور دل کو خوف خدا
chaar cheezon ko chaar cheezon se dhoya karo
zabaan ko zikar se, aankhon ko annsoon se,
gunaaho ko astaghfar se aur dil ko khauf kkhuda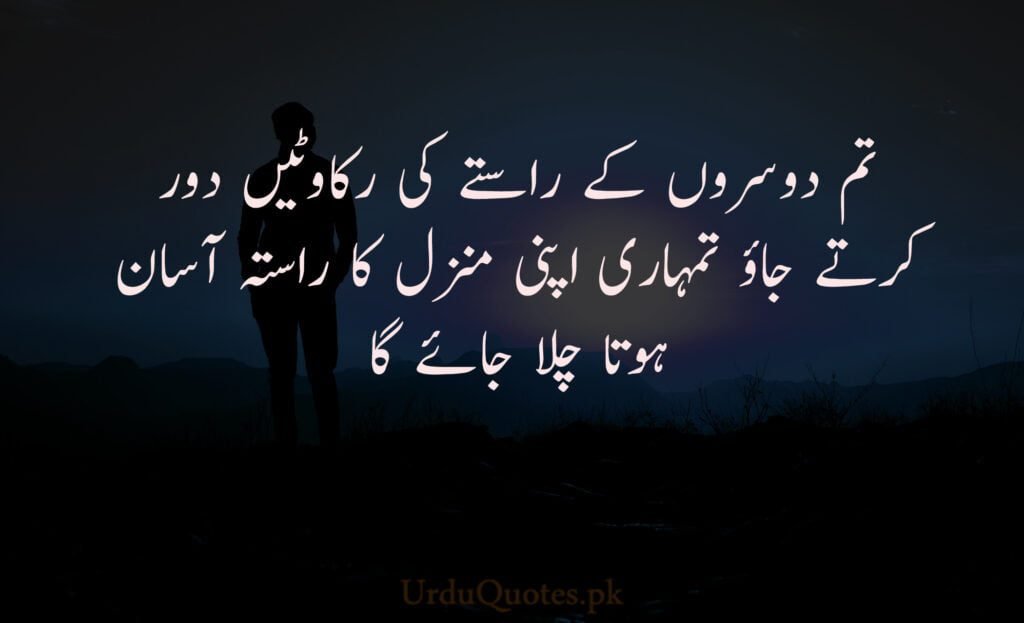 تم دوسروں کے راستے کی رکاوٹیں دور
کرتے جاؤ تمہاری اپنی منزل کا راستہ آسان ہوتا چلا جائے گا
tum doosron ke rastay ki rakawaten daur
karte jao tumhari apni manzil ka
rasta aasaan hota chala jaye ga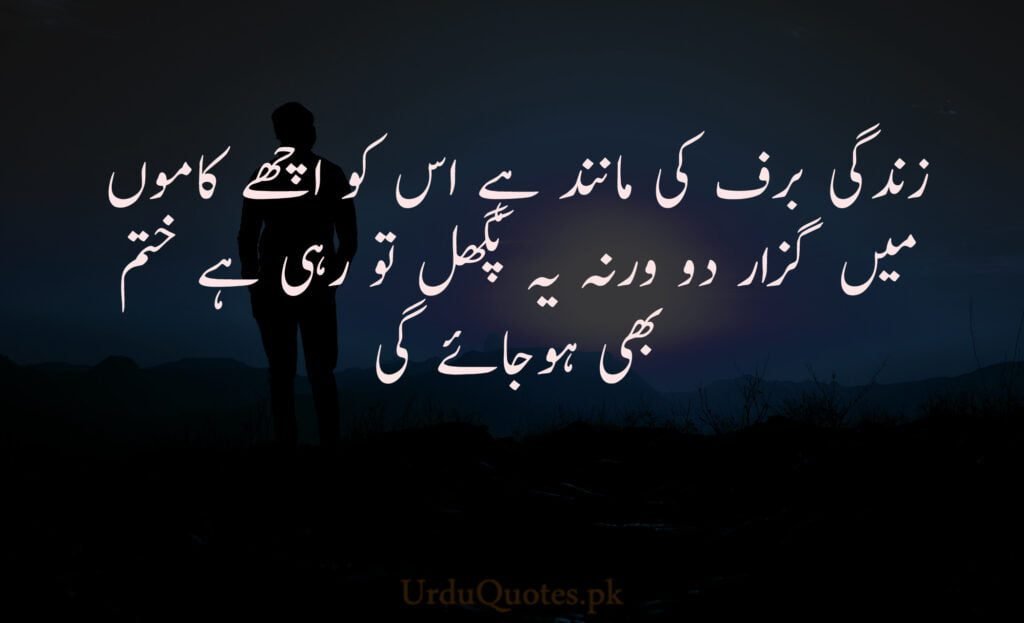 زندگی برف کی مانند ہے اس کو اچھے کاموں میں
گزار دو ورنہ یہ پھل تو رہی ہے ختم بھی ہو جائے گی
zindagi barf ki manind hai is ko achay kamon mein guzaar
do warna yeh phal to rahi hai khatam bhi ho jaye gi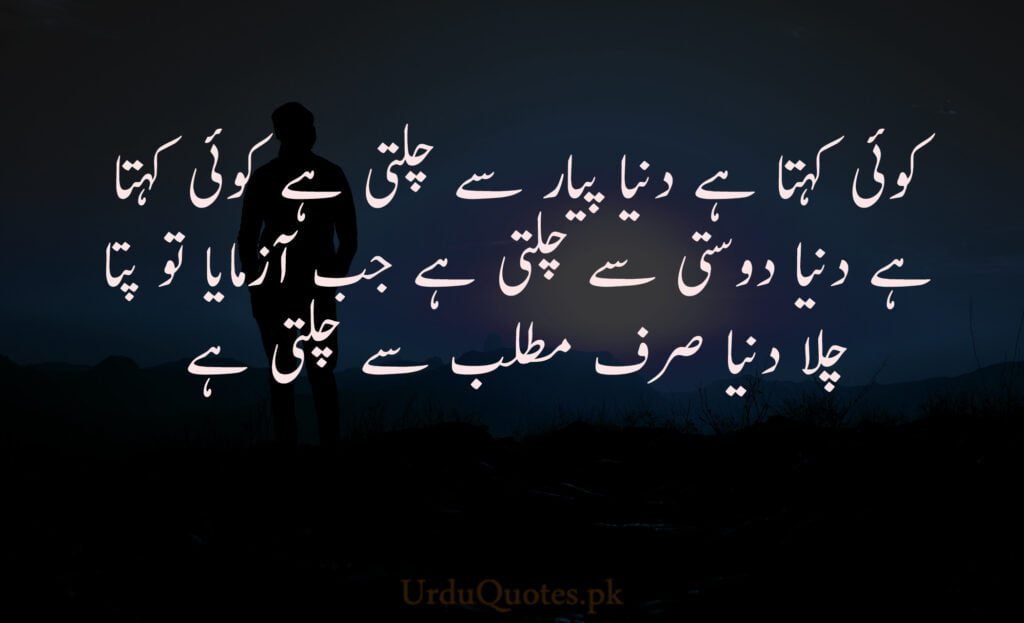 کوئی کہتا ہے دنیا پیار سے چلتی ہے کوئی کہتا ہے دنیا دوستی سے
چلتی ہے جب آزمایا تو پتا چلا دنیا صرف مطلب سے چلتی ہے

koi kehta hai duniya pyar se chalti hai koi kehta
hai duniya dosti se chalti hai jab aazmaaya
to pata chala duniya sirf matlab se chalti hai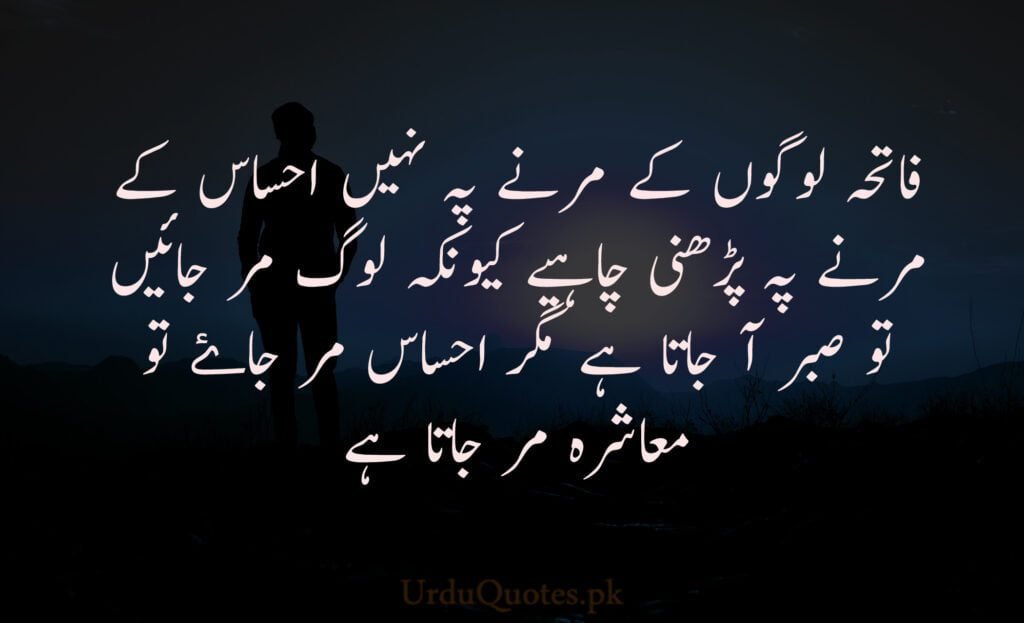 فاتحہ لوگوں کے مرنے یہ نہیں احساس کے مرنے
پر پڑھنی چاہیے کیونکہ لوگ مر جائیں
تو صبر آ جاتا ہے مگر احساس مرا
جائے تو معاشرہ مر جاتا ہے
Fatiha logon ke marnay yeh nahi ehsas ke marnay par padni
chahiye kyunkay log mar jayen to sabr aa jata hai
magar ehsas mra jaye to muashra mar jata hai
ہر عمل سوچ سمجھ کر کرو کیوں کہ ہر عمل کے اندر اسکا
انجام یوں چھپا ہوتا ہے جیسے ہر پیج کے اندر درخت
har amal soch samajh kar karo kyun ke har amal
ke andar uska injaam yun chhupa hota
hai jaisay har page ke andar darakht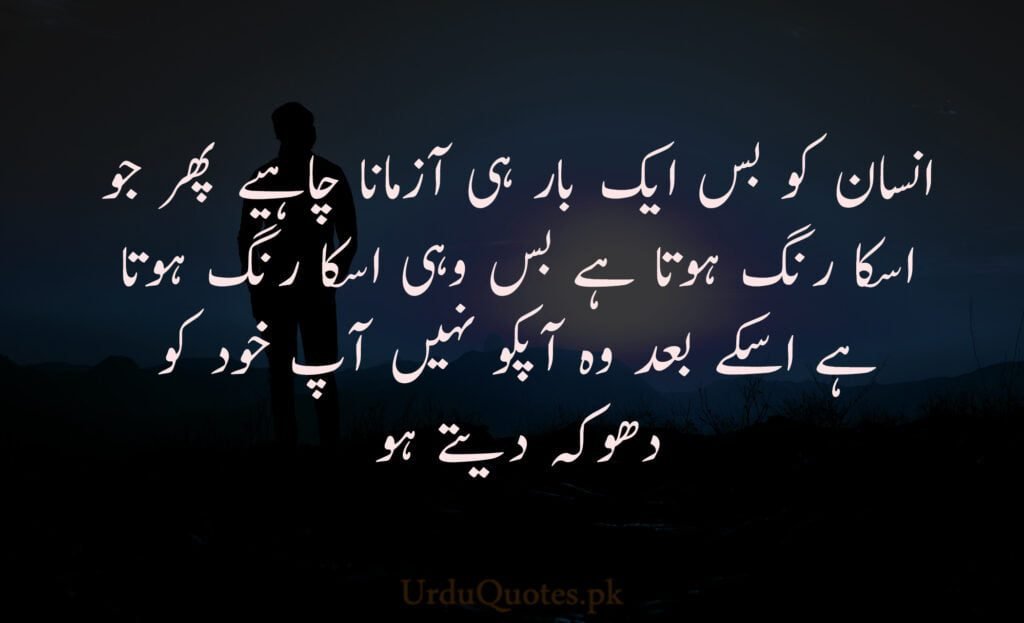 انسان کو بس ایک بار ہی آزمانا چاہیے پھر جو اسکا رنگ ہوتا ہے بس وہی
اسکا رنگ ہوتا ہے اسکے بعد وہ آپکو نہیں آپ خود کو دھوکہ دیتے ہو

insaan ko bas aik baar hi aazmana chahiye phir jo
uska rang hota hai bas wohi uska rang hota
hai uskay baad woh aapko nahi aap khud ko dhoka dete ho
Love Quotes In Urdu
Love is in the nature of human. Love quotes are the great way to share your love for your loved ones. You can impress them with these quote sin urdu
بات اتنی سی تھی کہ تم اچھے لگتے تھے
بات اتنی بڑھ گئی کہ اب رہا نہیں جاتا
Bat itny th tum payary lagth
tahy
itny barh gai ab raha ni jata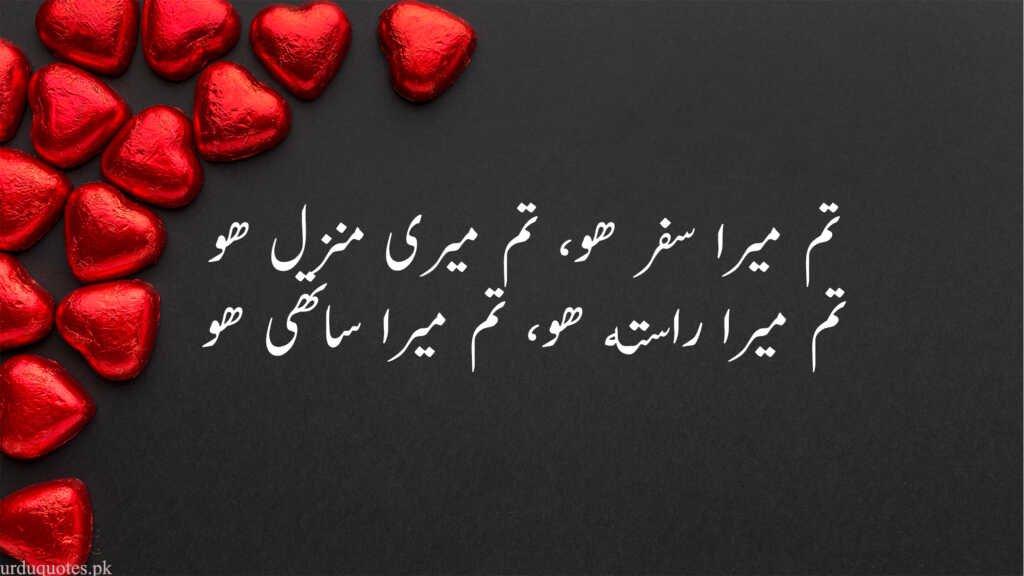 تم ميری عادت هو، تم ميری ضرورت هو
تم ہی مير شعور هو، ميرا عشق هو

tum hi mry adat ho tum hi mry zarrorat ho
Tum hi mera shaoor ho, Tum hi mera isq ho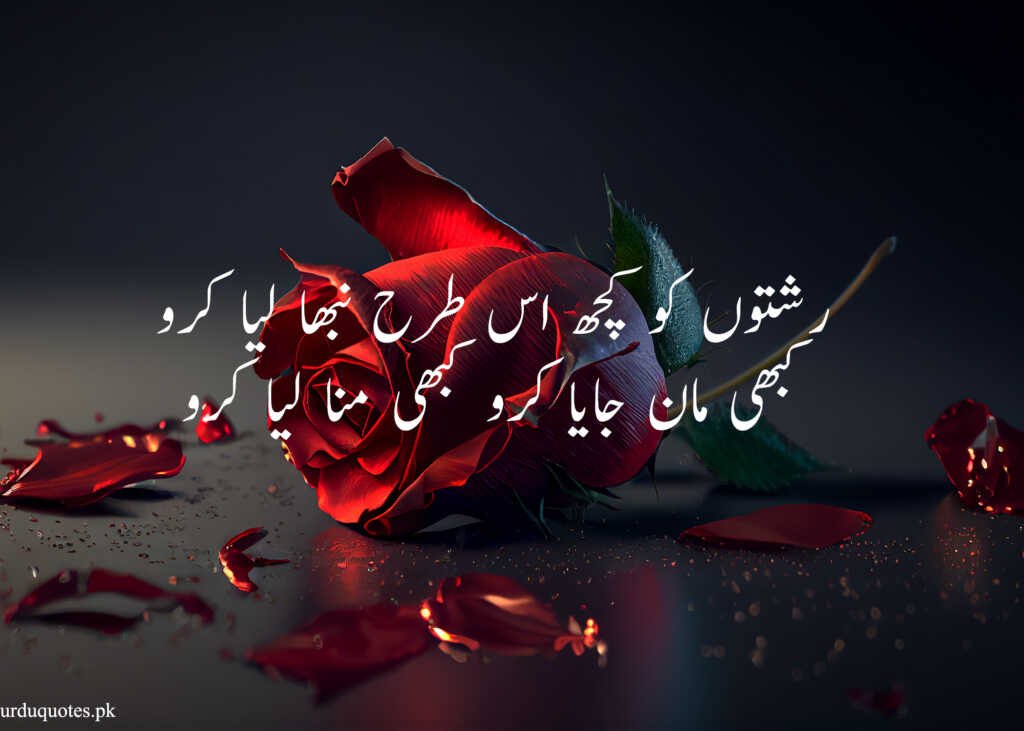 تیرے بنا جینا مشکل ہے یہ
تجھے بتانا اور بھی مشکل ہے
Tery bena jeno Muskil hai
Tujy batana aur by muskil hai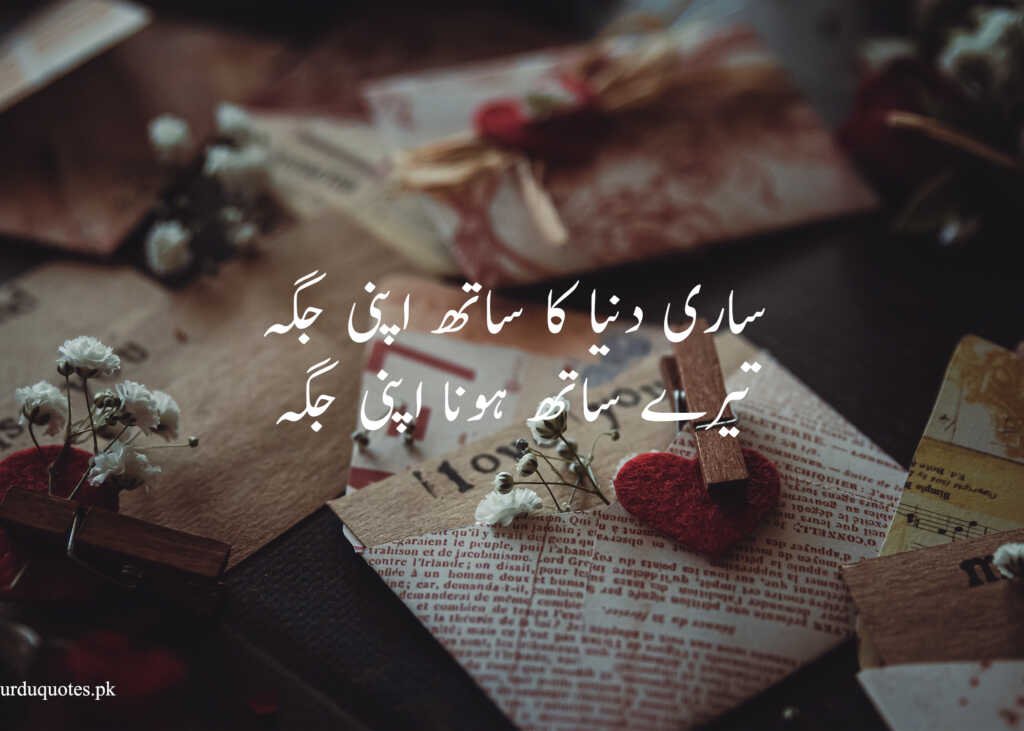 ساری دنیا کا ساتھ اپنی ہی جگہ ے
اور ترے ساتھ ہونا اپنی جگہ
sari dunay ka sath apni jaga
Aur tera sath huan apny jagga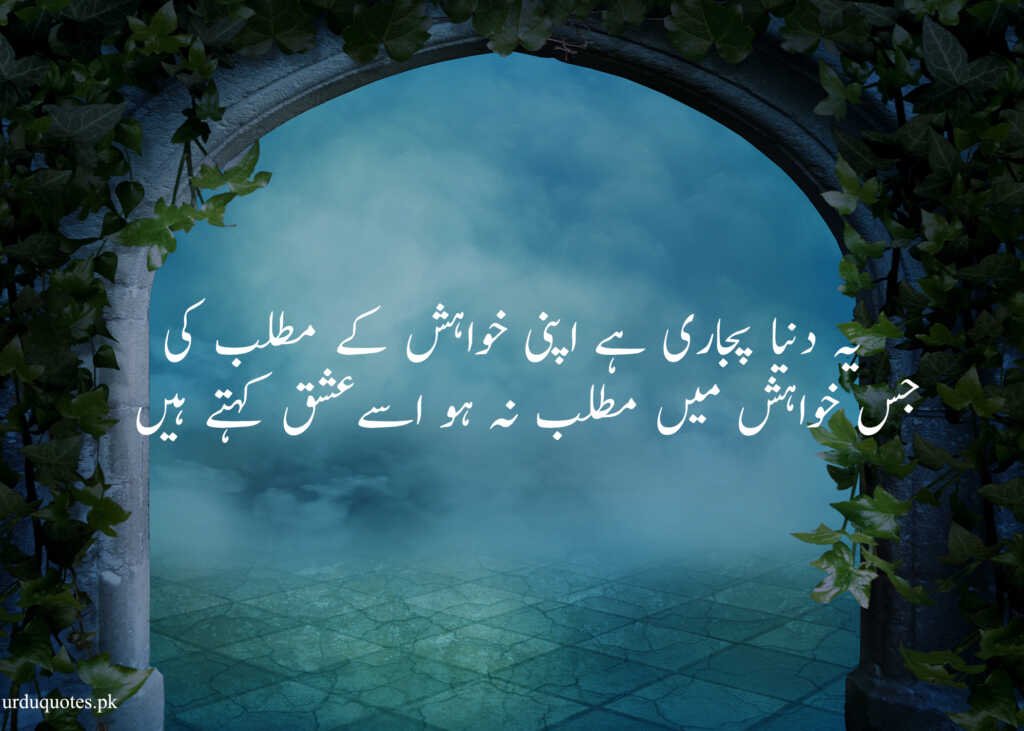 یہ دنیا پجاری ہے اپنی خواہش کے مطلب کی
جس خواہش میں مطلب نہ ہو اسے عشق کہتے ہیں
yeh dunaya pujari hai apny Khwahish ky matlab ki
jis khawaish my matlab na ho isy ask ketyu hain
Islamic Quotes in Urdu
Is lamic is the only religion that is not only beneficial for you in this world but also in the hereafter. Islamic urdu quotes are the great way to boost you iman and faith.
جس نے رسول کا حکم مانا بے شک اس نے اللہ کا
حکم مانا ۔
Jis ny Rasool ka hukam msna byshak is ny Allah ka Hukam mana
اے ایمان والو! اللہ سے ڈرو اور سچوں کے ساتھ ہو جاؤ۔

Ay iman walo! Allah sy dro aur schoon ky sath ho jao
اے ایمان والو! اللہ سے ڈرو اور سچوں کے ساتھ ہو جاؤ۔

Ay iman walo! Allah sy dro aur schoon ky sath ho jao
جس جگہ خدا چاہے عقل بادل کی طرح برستی ہے
اور جہاں اس کا غصہ پاتی ہے بھاگ جاتی بھاگ جاتی ہے !!!
Jis jaga khuda cha hy Aqa badl ki tarah barasty hai
aur jahan is ka ghusa aty hai whan sy bag jaty hai
دوسروں کی خوشی اور آسودہ حالی پر حسد نہ کرو
کیوں کہ ان کی یہ خوشحالی زندگی تو چند روز ہے۔
Dosroon ky khusy aur asooda haly par hasad na kro
ku ky in ki khushal zindagy to chand roz hai
Conclusion
In conclusion, Urdu quotes are a valuable source of wisdom and inspiration for anyone who wants to learn from the experiences and insights of others. Urdu quotes can help us to understand ourselves, our relationships, our goals and our challenges better. They can also encourage us to be more positive, optimistic and grateful for what we have. We hope that you enjoyed reading these Urdu quotes and that they will make a difference in your life.