Nafrat is a feeling in a human that is build for someone due to some of his actions and some time people love each other because of their action. At that time love quotes and mohabbat quotes in urdu is a great way to express their feelings. There are different ways to calm down nafrat for someone in your heart and you are sad.In face if you are sad then you can get rid from sadness by reading sad quotes in urdu. In this article we will provide you some bet nafrat quotes in urdu and nafrat poetry that will help you to express your feelings in a poetic and sensible way. Here are some nafrat quotes and nafrat poetry in urdu.
Table of contents
Nafrat Quotes in urdu
Nafrat quotes in urdu the wise saying about the people whom you dislike. These quotes allow you to express your feelings and cam down your self. These nafrat quotes can help you to shift your anger into happiness.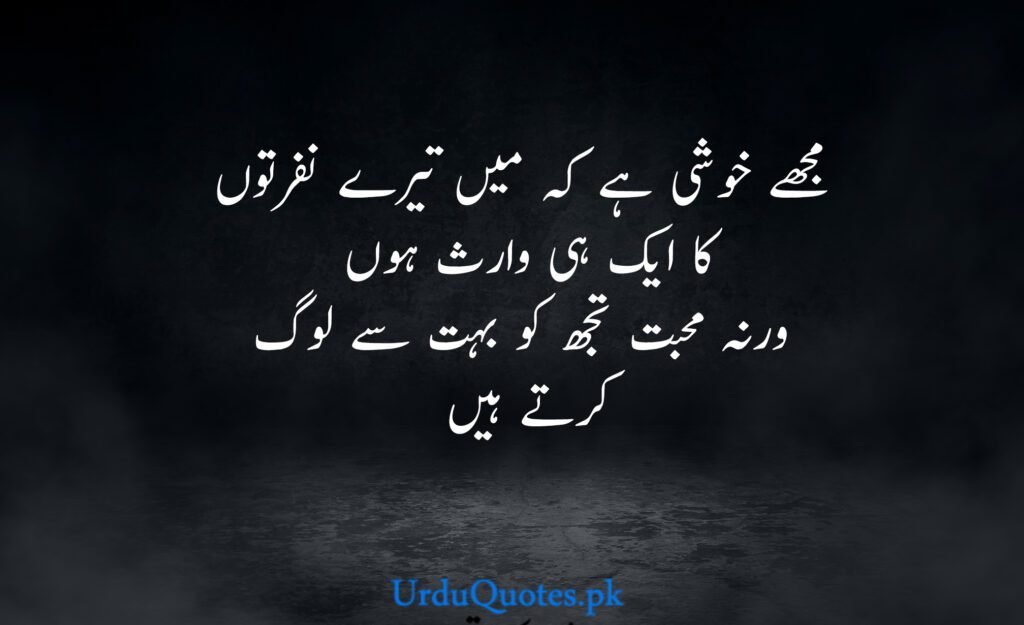 مجھے خوشی ہے کہ میں تیرے نفرتوں کا ایک ہی وارث ہوں
ورنہ محبت تجھ کو بہت سے لوگ کرتے ہیں

mujhe khushi hai ke mein tairay nafratoon ka aik hi waris hon
warna mohabbat tujh ko bohat se log karte hain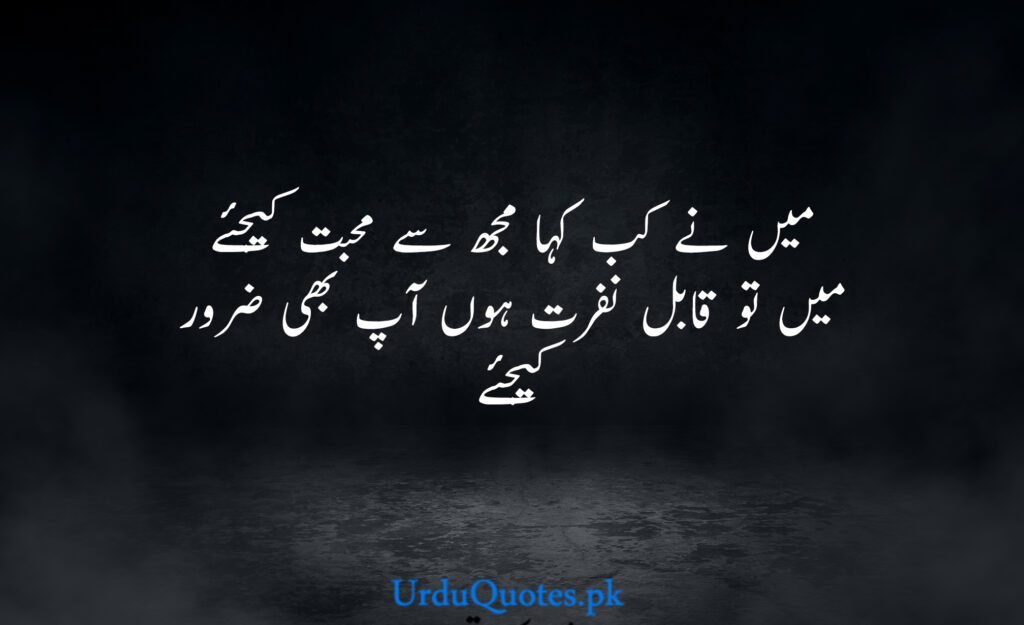 میں نے کب کہا مجھ سے محبت کیجئے
میں تو قابل نفرت ہوں آپ بھی ضرور کیجئے

mein ne kab kaha mujh se mohabbat kijiyej
mein to qabil nafrat hon aap bhi zaroor kijiyej
ہم سے نفرت کرنے والے بھی کمال کا ہنر رکھتے ہیں
ہمیں دیکھنا نہیں چاہتے اور نظریں بھی ہم پر رکھتے ہیں

hum se nafrat karne walay bhi kamaal ka hunar rakhtay hain
hamein dekhna nahi chahtay aur nazrain bhi hum par rakhtay hain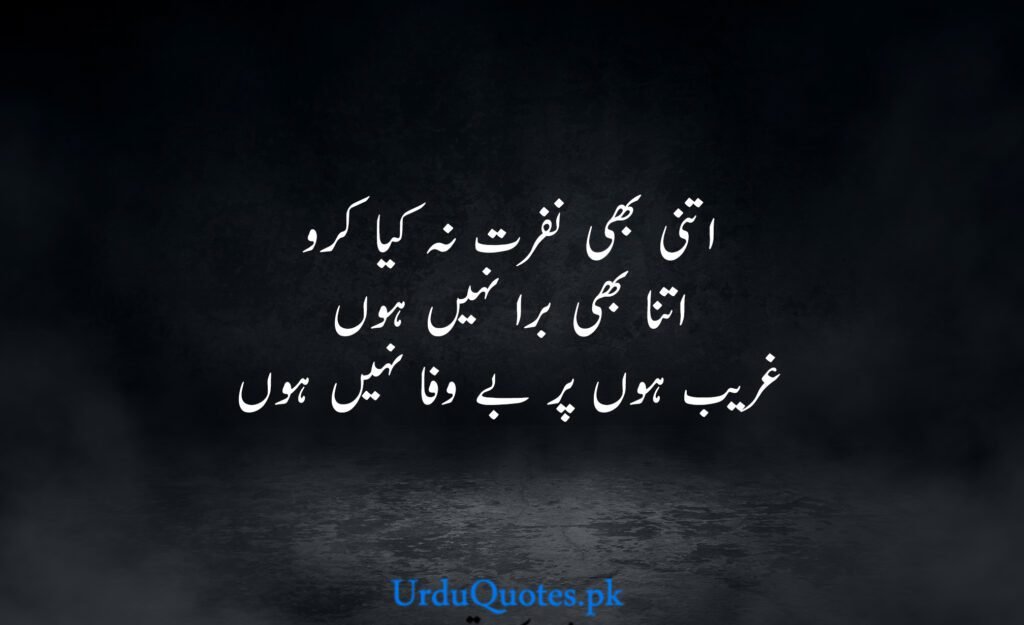 اتنی بھی نفرت نہ کیا کرو
اتنا بھی برا نہیں ہوں
غریب ہوں پر بے وفا نہیں ہوں

itni bhi nafrat nah kya karo
itna bhi bura nahi hon
ghareeb hon par be wafa nahi hon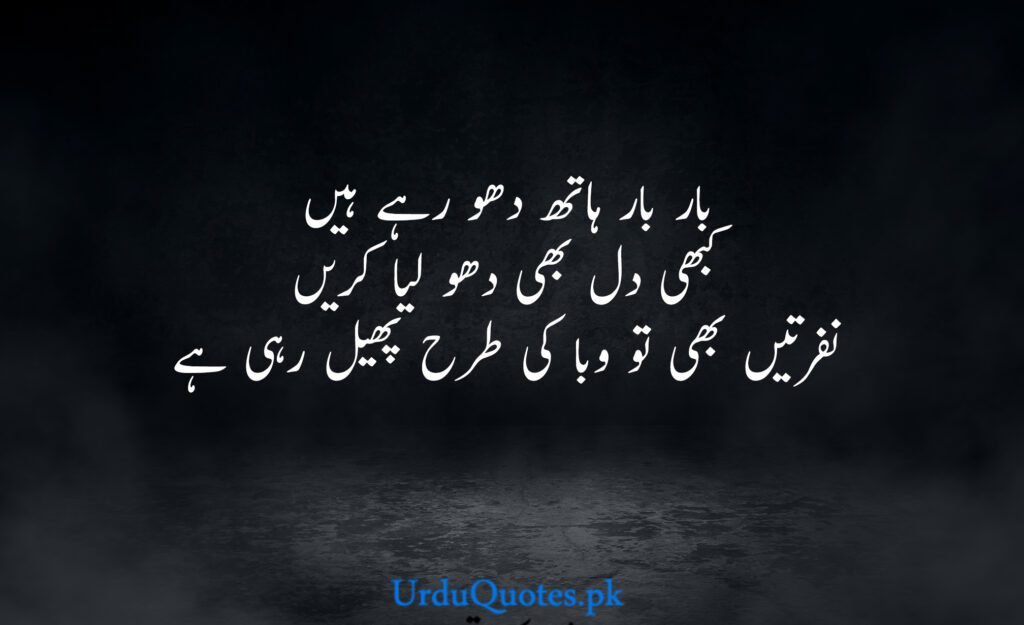 بار بار ہاتھ دھو رہے ہیں کبھی دل بھی دھو لیا کریں
نفرتیں بھی تو وبا کی طرح پھیل رہی ہے


baar baar haath dho rahay hain kabhi dil bhi dho liya karen
nafraten bhi to waba ki terhan phail rahi hai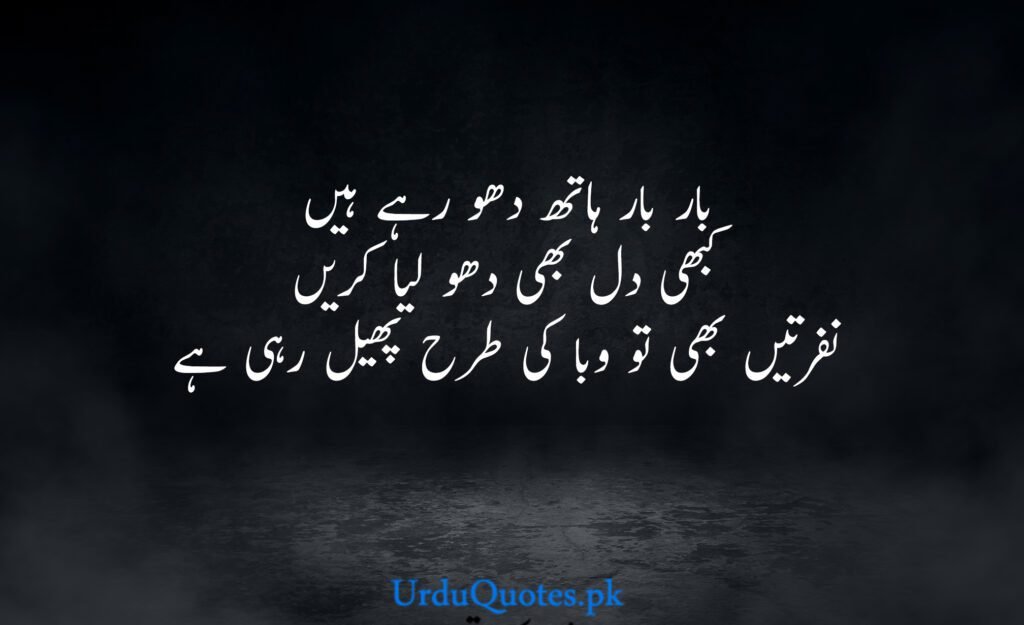 بار بار ہاتھ دھو رہے ہیں کبھی دل بھی دھو لیا کریں
نفرتیں بھی تو وبا کی طرح پھیل رہی ہے



baar baar haath dho rahay hain kabhi dil bhi dho liya karen
nafraten bhi to waba ki terhan phail rahi hai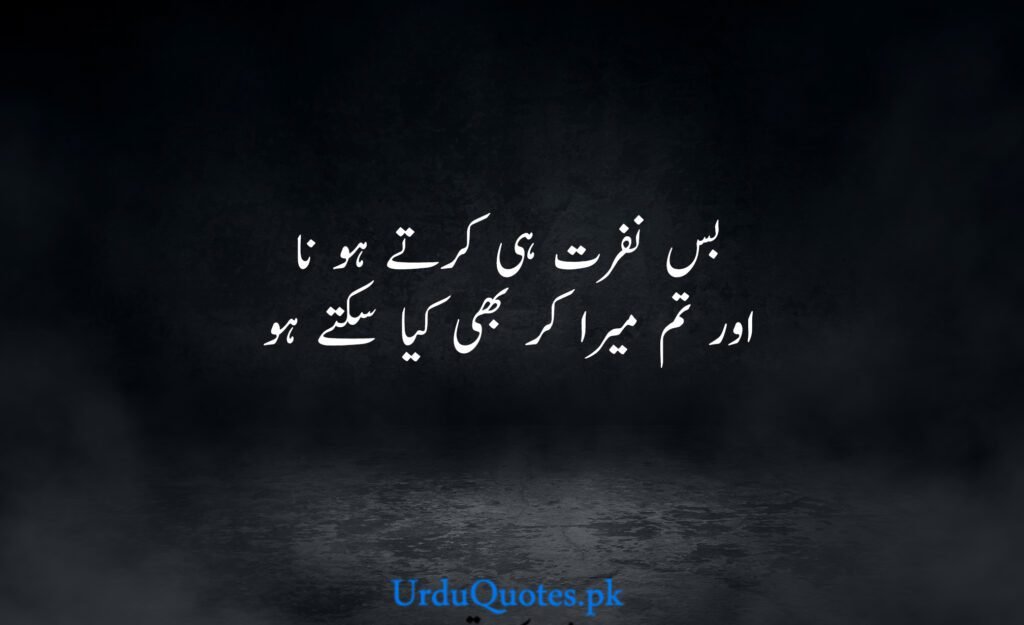 بس نفرت ہی کرتے ہو نا
اور تم میرا کر بھی کیا سکتے ہو

bas nafrat hi karte ho na
aur tum mera kar bhi kya satke ho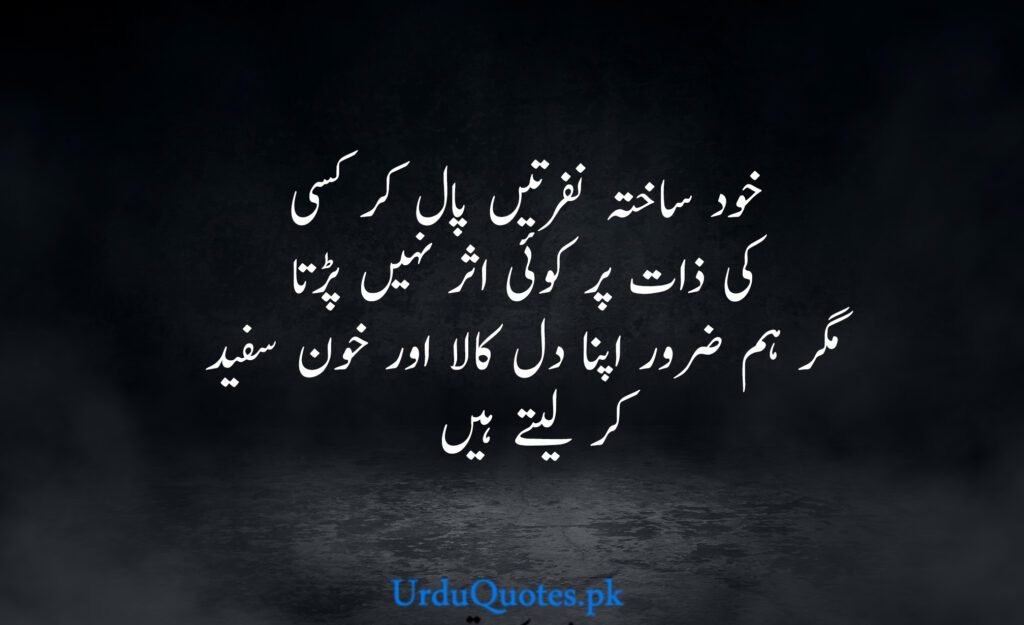 خود ساختہ نفرتیں پال کر کسی کی ذات پر کوئی اثر نہیں پڑتا
مگر ہم ضرور اپنا دل کالا اور خون سفید کر لیتے ہیں

khud sakhta nafraten paal kar kisi ki zaat par koi assar nahi parta
magar hum zaroor apna dil kala aur khoon safaid kar letay hain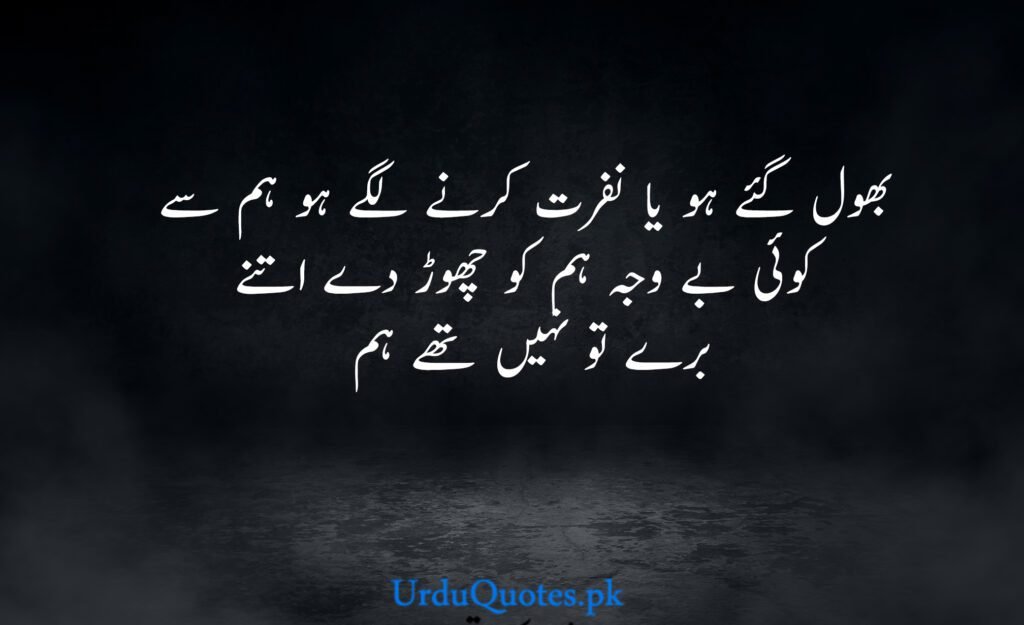 بھول گئے ہو یا نفرت کرنے لگے ہو ہم سے
کوئی بے وجہ ہم کو چھوڑ دے اتنے برے تو نہیں تھے ہم

bhool gaye ho ya nafrat karne lagey ho hum se
koi be wajah hum ko chore day itnay buray to nahi thay hum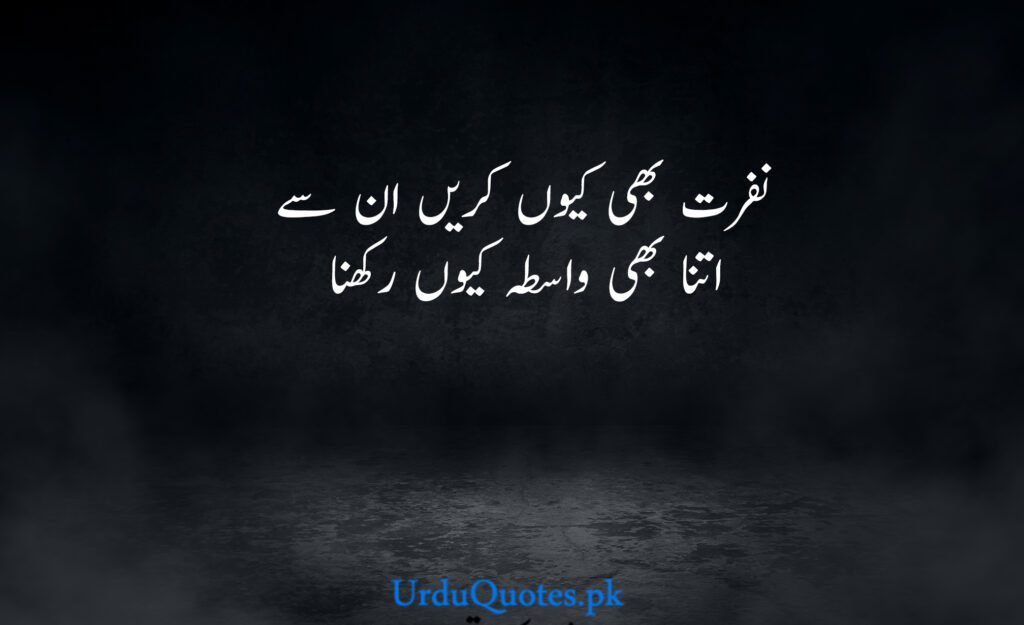 نفرت بھی کیوں کریں ان سے
اتنا بھی واسطہ کیوں رکھنا

nafrat bhi kyun karen un se
itna bhi vaastaa kyun rakhna
ہم سے ہوتا ہے جب کوئی گناہ
اسے قسمت کی بھول کہتے ہیں
کتنے بااعتماد ہیں ہم لوگ
نفرتوں کو بھی اصول کہتے ہیں

hum se hota hai jab koi gunah
usay qismat ki bhool kehte hain
kitney baaatmad hain hum log
nafratoon ko bhi usool kehte hain





Nafrat Poetry
Poetry is in the nature of human. It provides a pleasant environment for mental satisfaction for human especially when your dishearten from someone. Nafrat poetry in urdu can help you to feel satisfied and easy. below are the nafrat poetry with images in urdu language.
بنانے والے نے تو محبت کا درس دیا ہے
نفرت کرنا تو ہم نے خود سیکھ لیا ہے

bananay walay ne to mohabbat ka dars diya hai
nafrat karna to hum ne khud seekh liya hai



پیار کرتا ہوں اس لیے فکر کرتا ہوں
جب نفرت کروں گا تو ذکر بھی نہیں کروں گا

pyar karta hon is liye fikar karta hon
jab nafrat karoon ga to zikar bhi nahi karoon ga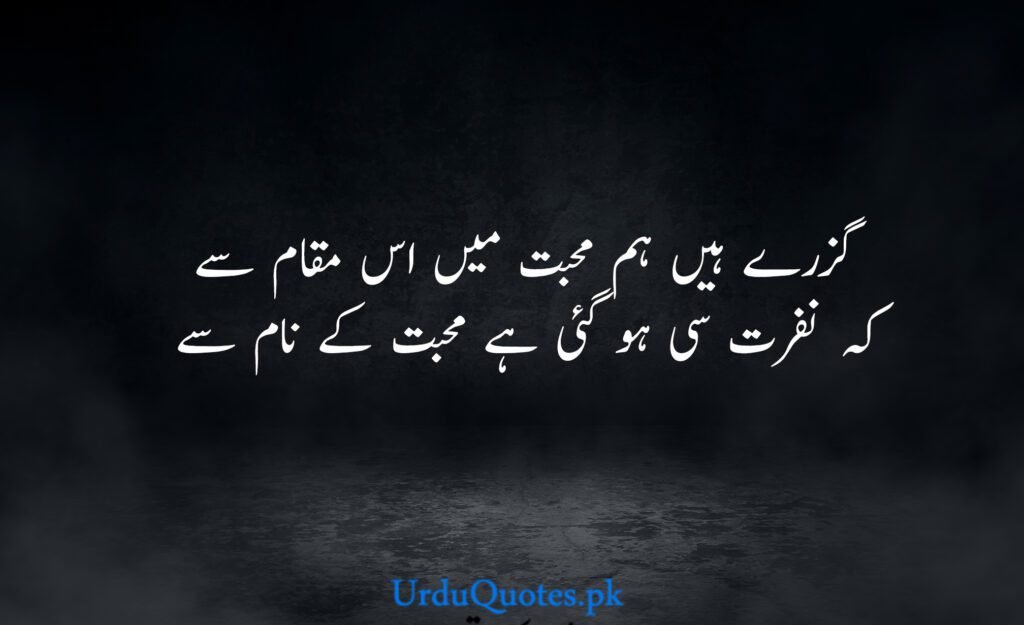 گزرے ہیں ہم محبت میں اس مقام سے
کہ نفرت سی ہو گئی ہے محبت کے نام سے
Guzry hain ham muhabbat main is maqam sy
ky nafrat sy ho gai ha nafrat ky nam sy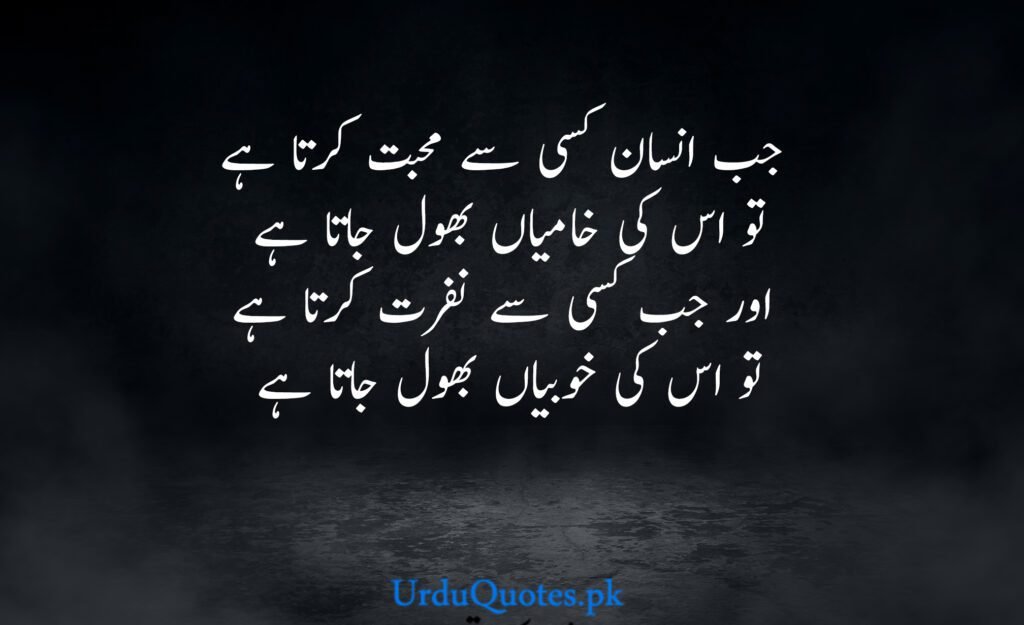 جب انسان کسی سے محبت کرتا ہے تو اس کی خامیاں بھول جاتا ہے
اور جب کسی سے نفرت کرتا ہے تو اس کی خوبیاں بھول جاتا ہے

jab insaan kisi se mohabbat karta hai to is ki khamiyan bhool jata hai
aur jab kisi se nafrat karta hai to is ki khoobiyan bhool jata hai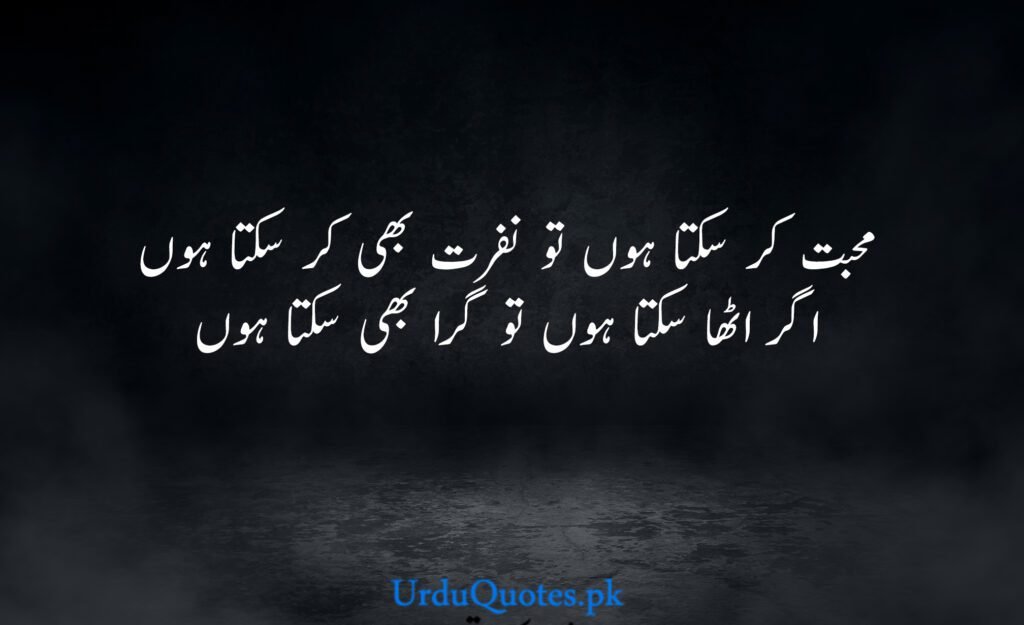 محبت کر سکتا ہوں تو نفرت بھی کر سکتا ہوں
اگر اٹھا سکتا ہوں تو گرا بھی سکتا ہوں
mohabbat kar sakta hon to nafrat bhi kar sakta hon
agar utha sakta hon to gira bhi sakta hon
Conclusion
We hope you have Enjoyed the nafrat poetry alot. We are very excited to know about your thinkings on nafrat quotes and nafrat poetry in urdu you jus read in this article. fell free to leave a comment in the comment section.
You may like