Sad quotes in urdu are words that express the feelings of sadness, sorrow, grief, or despair. They can help us cope with difficult emotions, find comfort in others who have gone through similar experiences, or inspire us to overcome our challenges. These can also be used as sad status and can be shared with friends. In this blog post, we will share some of the most powerful and touching sad quotes from different sources, such as books, movies, songs, and famous people. We will also explain why these quotes are meaningful and how they can relate to our own lives. At the end of the post, we will provide some tips on how to deal with sadness and find happiness again.
Sad Quotes in Urdu



mein bhi bohat ajeeb hon itna ajeeb hon ke bas
khud ko tabah kar liya aur malaal bhi nahi
میں بھی بہت عجیب ہوں اتنا عجیب ہوں کہ بس
خود کو تباہ کر لیا اور ملال بھی نہیں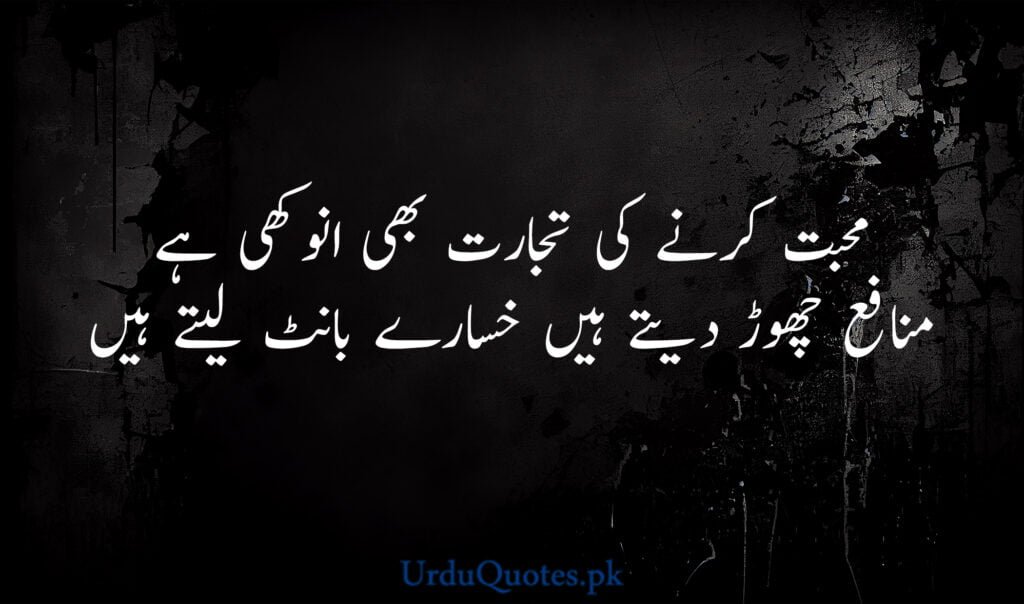 mohabbat karne ki tijarat bhi anokhi hai
munafe chore dete hain khasaray baant letay hain
محبت کرنے کی تجارت بھی انوکھی ہے
منافع چھوڑ دیتے ہیں خسارے بانٹ لیتے ہیں
yaqeen nah آۓ to ik baar pooch kar dekh lo
jo hans raha hai. woh zakham se chor niklay ga
یقین نہ آۓ تو اِک بار پوچھ کر دیکھ لو
جو ہنس رہا ہے۔ وہ زخم سے چور نکلے گا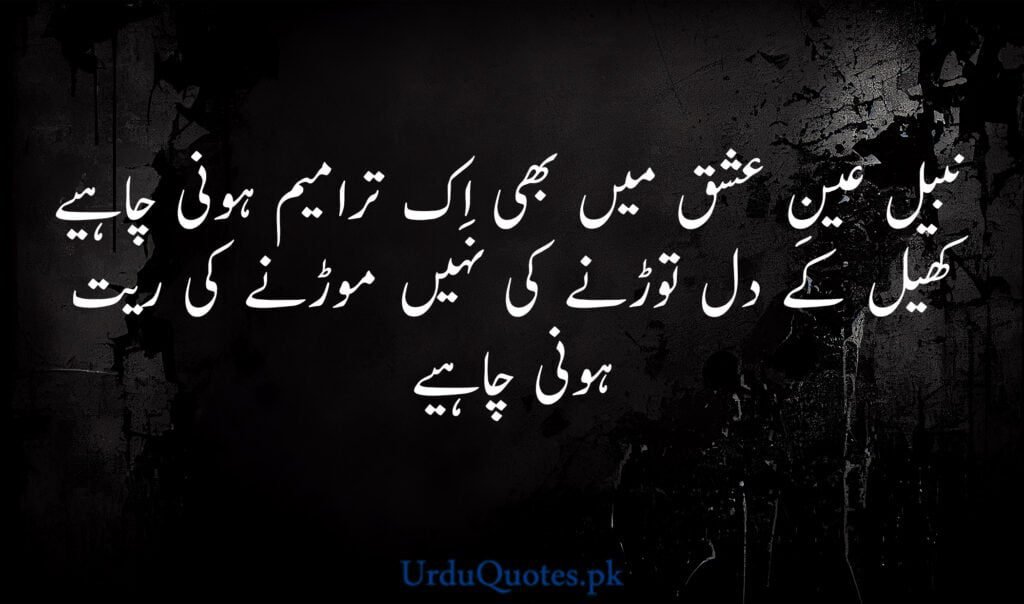 nabeel ain ishhq mein bhi ik tarameem honi chahiye
khail ke dil tornay ki nahi mornay ki rait honi chahiye
نبیل عینِ عشق میں بھی اِک ترامیم ہونی چاہیے
کھیل کے دل توڑنے کی نہیں موڑنے کی ریت ہونی چاہیے


jo kaha mein ne ke pyar aata hai mujh ko tum par
hans ke kehnay laga aur aap ko aata kya hai
جو کہا میں نے کہ پیار آتا ہے مجھ کو تم پر
ہنس کے کہنے لگا اور آپ کو آتا کیا ہے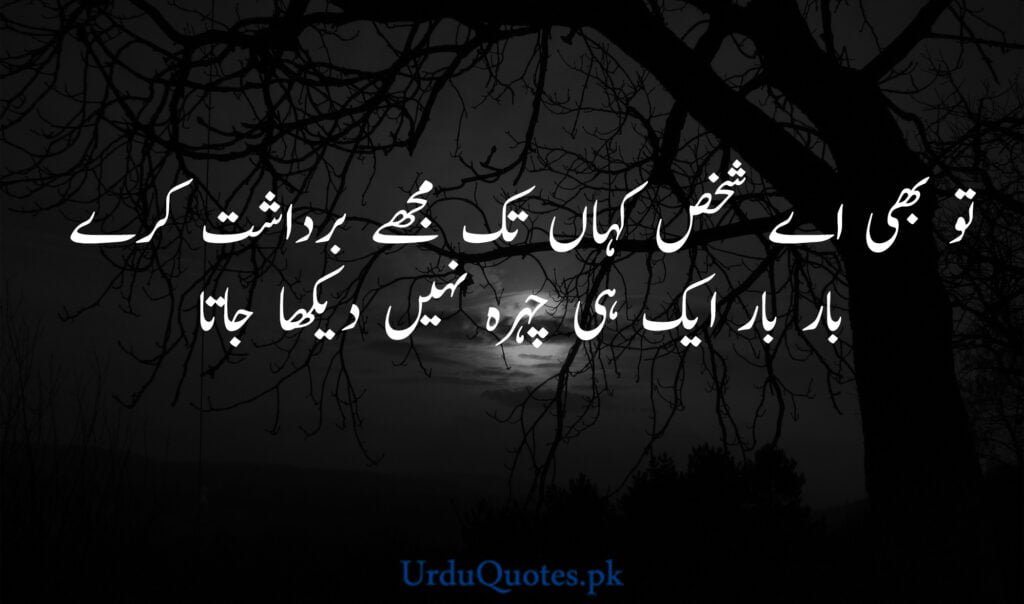 to bhi ae shakhs kahan tak mujhe bardasht kere
baar baar aik hi chehra nahi dekha jata
تو بھی اے شخص کہاں تک مجھے برداشت کرے
بار بار ایک ہی چہرہ نہیں دیکھا جاتا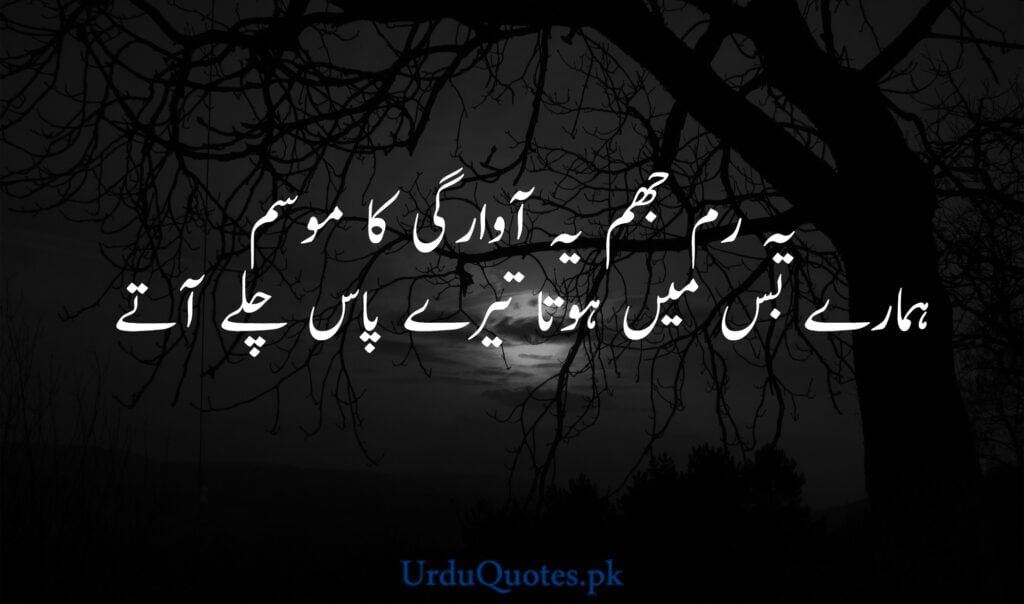 yeh rim jhim yeh avargi ka mausam
hamaray bas mein hota tairay paas chalay atay
یہ رم جھم یہ آوارگی کا موسم
ہمارے بس میں ہوتا تیرے پاس چلے آتے
chairr dekho meri maiyat pay jo آۓ to kaha
tum vfadaron mein ho ya mein vfadaron mein hon
چھیڑ دیکھو میری میت پہ جو آۓ تو کہا
تم وفاداروں میں ہو یا میں وفاداروں میں ہوں
ab to khwahish hai yeh ke saza woh miley
روۓ jaoon to chup nah کراۓ koi
اب تو خواہش ہے یہ کہ سزا وہ ملے
روۓ جاؤں تو چپ نہ کراۓ کوئی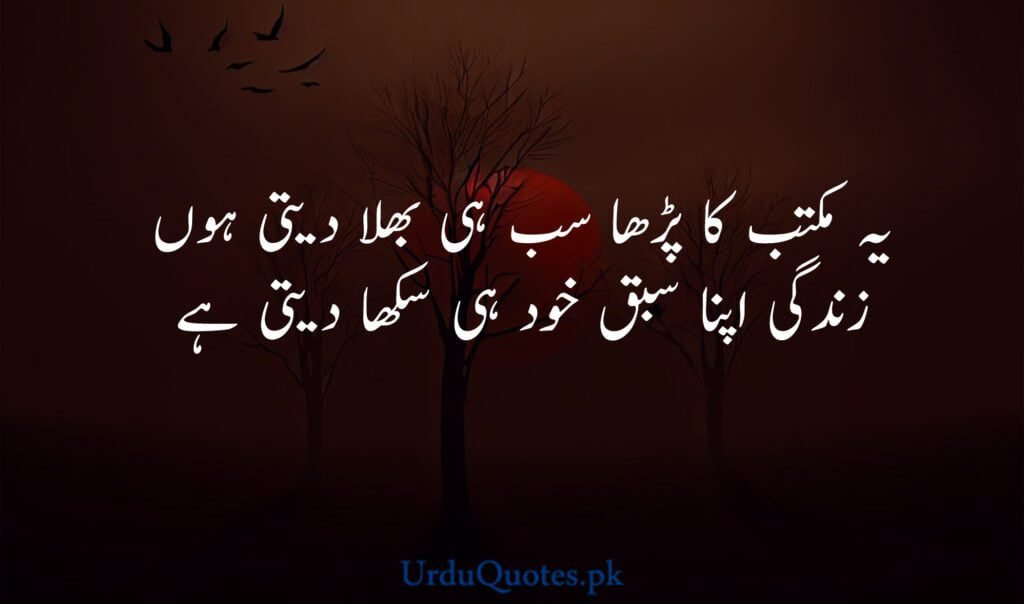 yeh maktab ka parha sab hi bhala deti hon
zindagi apna sabaq khud hi sikha deti hai
یہ مکتب کا پڑھا سب ہی بھلا دیتی ہوں
زندگی اپنا سبق خود ہی سکھا دیتی ہے
دکھی شاعری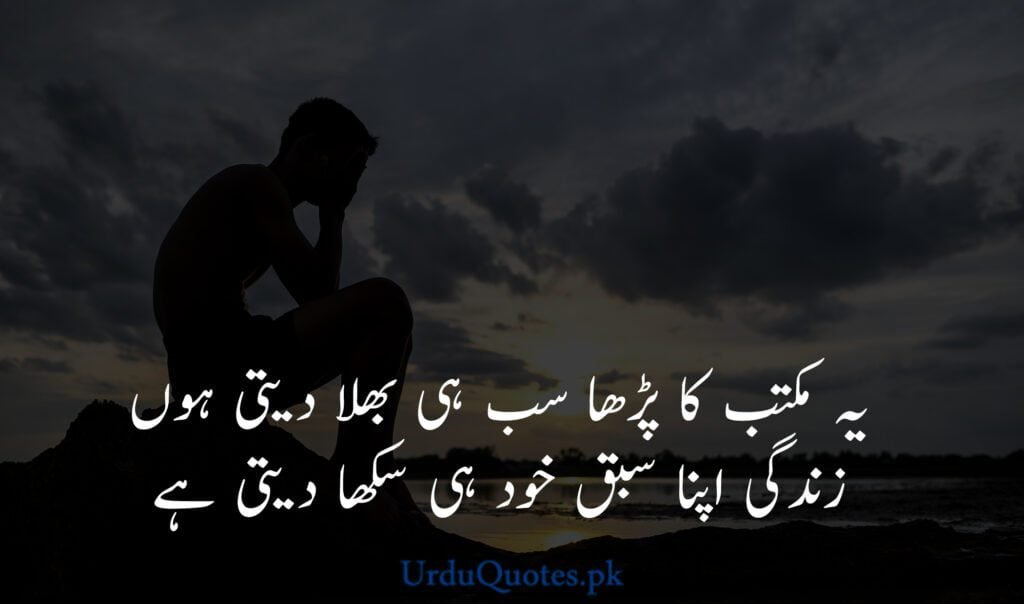 yeh maktab ka parha sab hi bhala deti hon
zindagi apna sabaq khud hi sikha deti hai
یہ مکتب کا پڑھا سب ہی بھلا دیتی ہوں
زندگی اپنا سبق خود ہی سکھا دیتی ہے
tujhe bhoolay koi hamwar dimagh
tairay pamaal kahan bholtay hain
تجھے بھولے کوئی ہموار دماغ
تیرے پامال کہاں بھولتے ہیں
kon jeeta hai zindagi apni
har kisi pay koi musallat hai
کون جیتا ہے زندگی اپنی
ہر کسی پہ کوئی مسلط ہے
hum bohat gehri udasi ke siwa
jis se bhi mlitay hain kam mlitay hain
ہم بہت گہری اداسی کے سوا
جس سے بھی ملتے ہیں کم ملتے ہیں
jo mukammal mlitay nahi
woh mukammal bichartay bhi nahi
جو مکمل ملتے نہیں
وہ مکمل بچھڑتے بھی نہیں
Sad Status in Urdu
tujh se haaru to jeet jata hon
teri khusihyan Aziz hain itni
تجھ سے ہاروں تو جیت جاتا ہوں
تیری خوشیاں عزیز ہیں اتنی
kitni raatain beete gayi kitney din dhal gaye
jinhen nahi badalna tha wohi log badal gaye
کتنی راتیں بیتی گئی کتنے دن ڈھل گئے
جنھیں نہیں بدلنا تھا وہی لوگ بدل گئے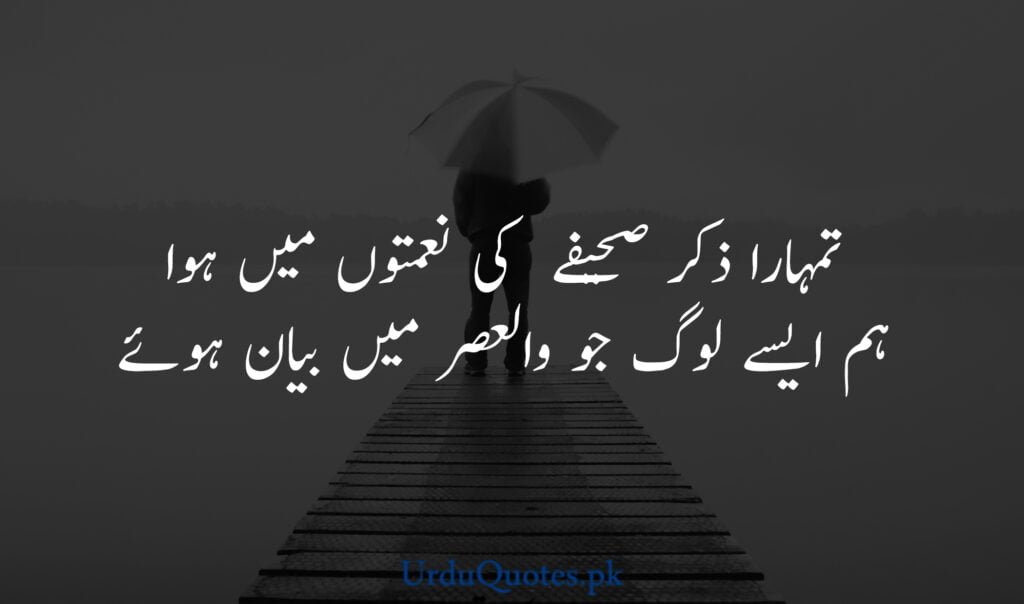 tumhara zikar saheefay ki nematon mein sun-hwa
hum aisay log jo والعصر mein bayan hue
تمہارا ذکر صحیفے کی نعمتوں میں ہوا
ہم ایسے لوگ جو والعصر میں بیان ہوئے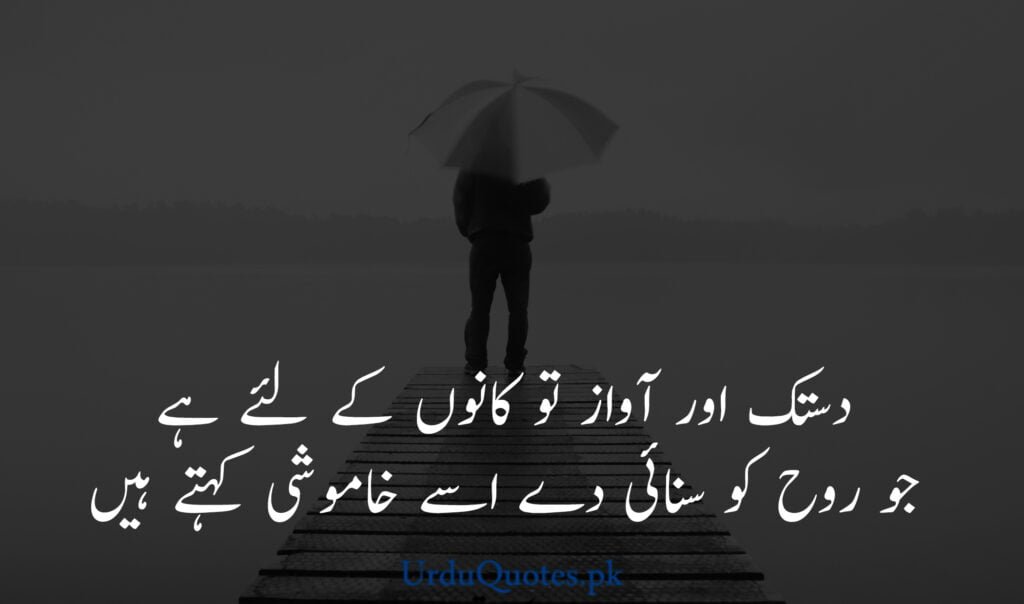 dastak aur aawaz to kaanon ke liye hai
jo rooh ko sunai day usay khamoshi kehte hain

دستک اور آواز تو کانوں کے لئے ہے
جو روح کو سنائی دے اسے خاموشی کہتے ہیں



khud pay beete to rotay ho sisaktay ho
woh jo hum ne kya, kya woh ishhq nahi tha
خود پہ بیتی تو روتے ہو سسکتے ہو
وہ جو ہم نے کیا، کیا وہ عشق نہیں تھا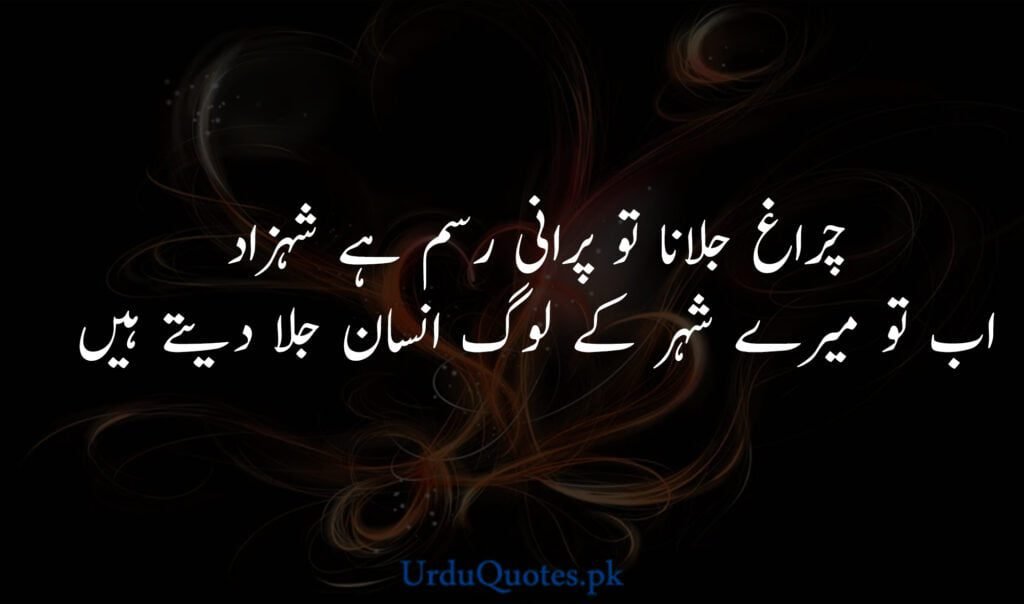 chairag jalana to purani rasam hai Shahzad
ab to mere shehar ke log insaan jala dete hain
چراغ جلانا تو پرانی رسم ہے شہزاد
اب تو میرے شہر کے لوگ انسان جلا دیتے ہیں
bas yuhin chore diya is ne mujhe
haae is ne mujhe aazmaaya bhi nahi
بس یونہی چھوڑ دیا اس نے مجھے
ہائےاس نے مجھے آزمایا بھی نہیں
karvatein do hi hain
aur dono taraf be cheeni hai
کروٹیں دو ہی ہیں
اور دونوں طرف بے چینی ہے
tumahray shehar ko jatay yeh laryon walay
sada nahi lagatay, mujh pay tanz karte hain
تمہارے شہر کو جاتے یہ لاریوں والے
صدا نہیں لگاتے،مجھ پہ طنز کرتے ہیں
Conclusion
In conclusion, sad quotes in urdu are not only words that make us cry, but also words that make us think, feel, and grow. They can help us understand ourselves and others better, and give us hope and strength to face our difficulties. Sadness is a part of life, but it is not the end of it. We can always find joy and beauty in the world, if we look for them. Hope you have enjoyed sad quotes in urdu.
Related Articles