Emotional quotes in urdu are powerful words that can inspire, motivate, and heal us. They can also help us express our feelings, cope with challenges, and connect with others. In this article, we will explore some of the benefits of emotional quotes, how to use them effectively, and where to find them. We will share some of the most popular and impactful emotional quotes from different sources and categories.
Emotional Quotes in Urdu




tarsa dِya hai abr gorezan ne iss qader
barsay jo boond bhi to samandar lagey mujhe
ترسا دِیا ہے اَبرِ گریزاں نے اِس قدر
برسے جو بوند بھی تو سمندر لگے مُجھے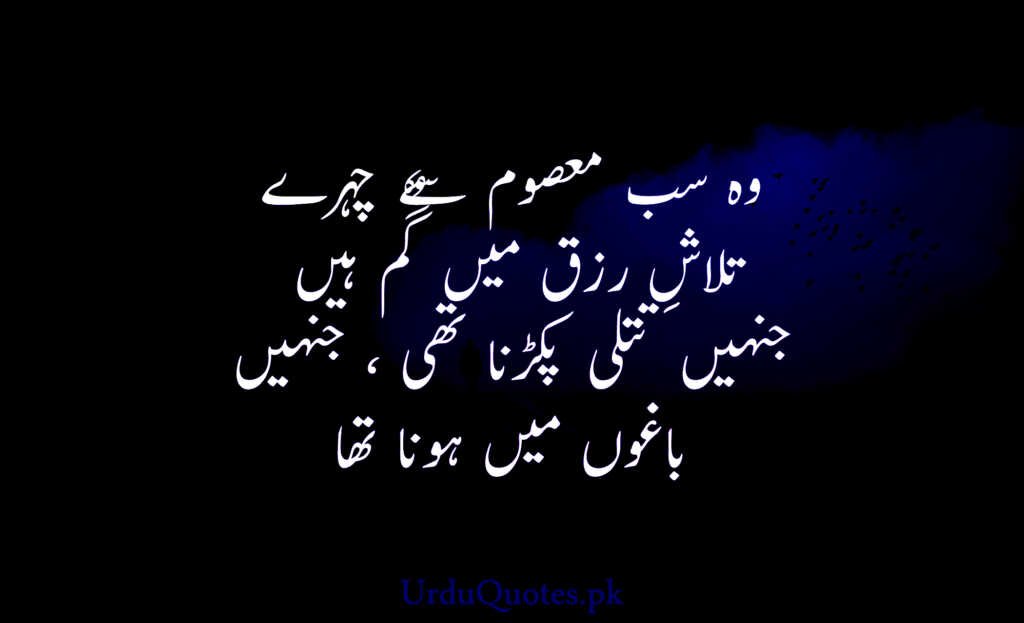 woh sab masoom se chehray talashe rizaq mein Gum hain
jinhein titlee pakarna thi, jinhein baghoon mein hona tha
وہ سب معصوم سے چہرے تلاشِ رزق میں گٌم ہیں
جنہیں تتلی پکڑنا تھی ، جنہیں باغوں میں ہونا تھا
doobe Huwon ko hum ne bithaya tha aur phir
kashti ka boojh ke kar utaara gaya hamein
ڈوبے ہٌووں کو ہم نے بٹھایا تھا اور پھر
کشتی کا بوجھ کہ کر اٌتارا گیا ہمیں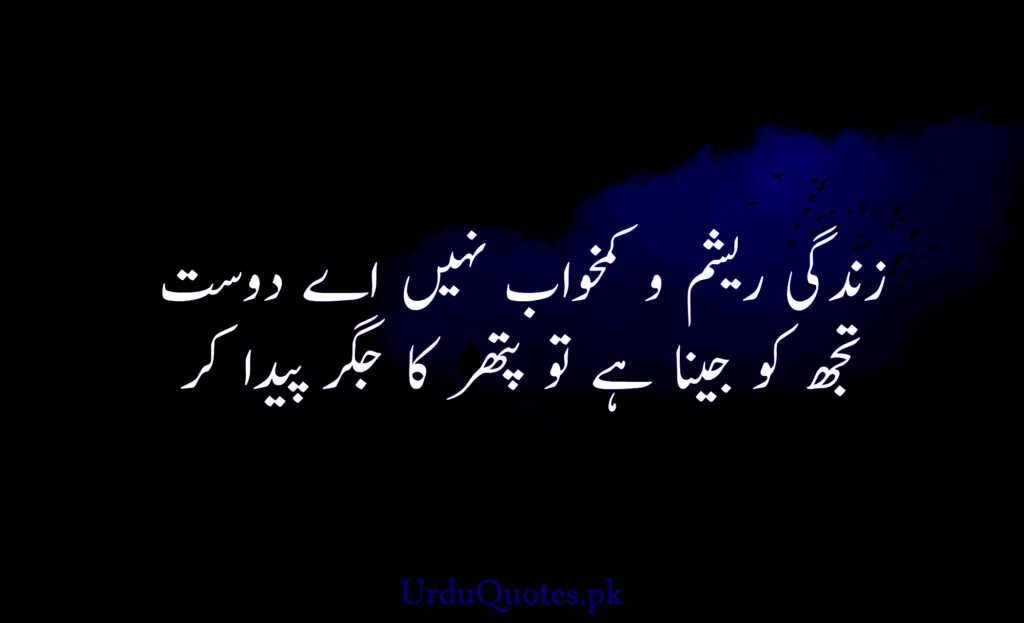 zindagi resham o kamkhawab nahi ae dost
tujh ko jeena hai to pathar ka jigar peda kar
زندگی ریشم و کمخواب نہیں اے دوست
تجھ کو جینا ہے تو پتھر کا جگر پیدا کر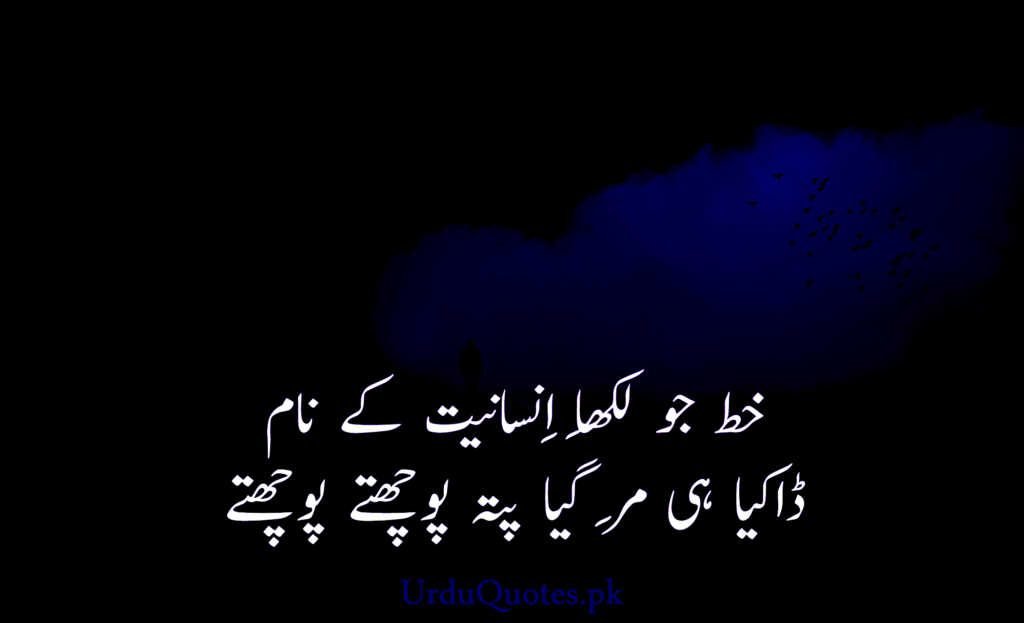 khat jo lِkha aِnsanit ke naam
dakiya hi Mar gaya pata puchhte puchhte
خط جو لِکھا اِنسانیت کے نام
ڈاکیا ہی مَر گیا پتہ پوچھتے پوچھتے
yeh dhoop ki saazish hai ke mausam ki shararat
ساۓ hain wahan kam jahan ashjar bohat hain
یہ دھوپ کی سازش ہے کہ موسم کی شرارت
ساۓ ہیں وہاں کم جہاں اشجار بہت ہیں
zindagi ko samjhna hai to peechay dekho
aur zindagi ko jeena hai to agay dekho
زندگی کو سمجھنا ہے تو پیچھے دیکھو
اور زندگی کو جینا ہے تو آگے دیکھو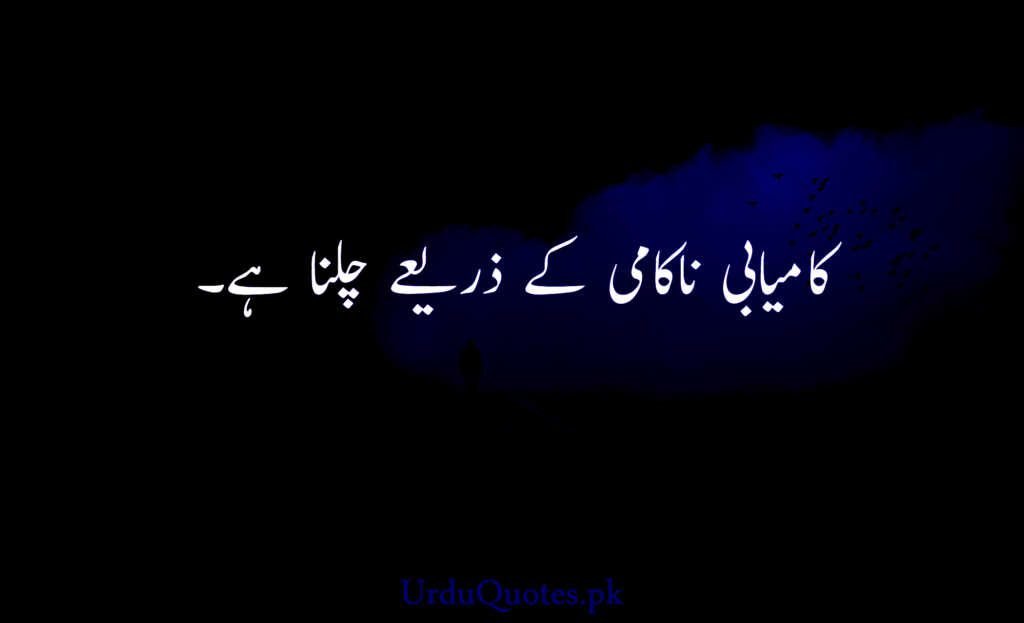 kamyabi nakami ke zariye chalna hai .

کامیابی ناکامی کے ذریعے چلنا ہے۔




agar tum Sooraj ki terhan chamakna chahtay ho
to pehlay Sooraj ki terhan jalna sikho
اگر تم سورج کی طرح چمکنا چاہتے ہو
تو پہلے سورج کی طرح جلنا سیکھو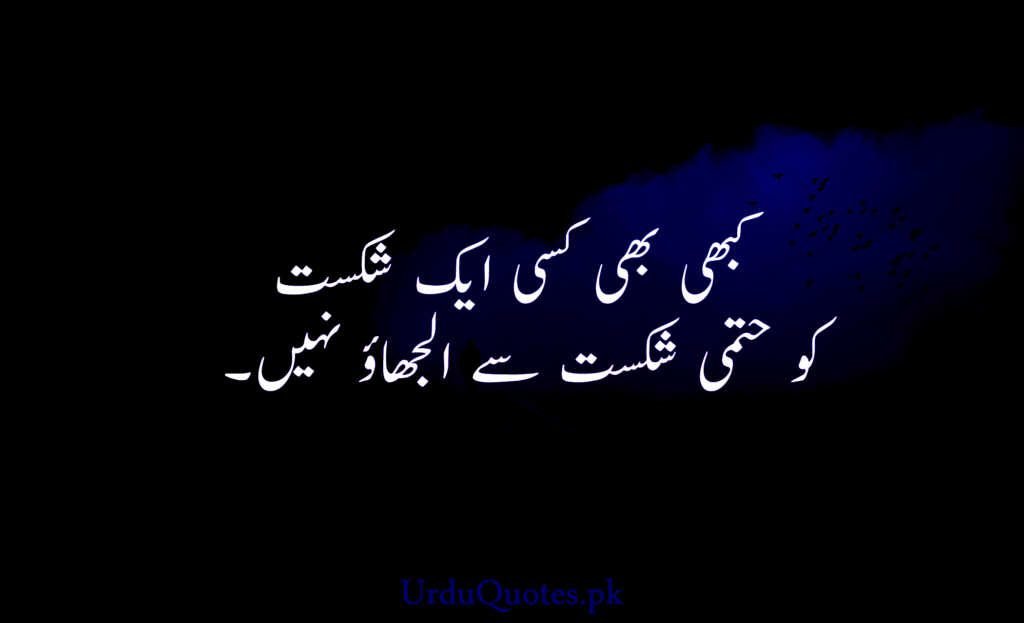 kabhi bhi kisi aik shikast
ko hatmi shikast se uljhao nahi .

کبھی بھی کسی ایک شکست
کو حتمی شکست سے الجھاؤ نہیں۔





zindagi kisi nah kisi maqam pay
har kisi ke liye talkh hoti hai
زندگی کسی نہ کسی مقام پہ
ہر کسی کیلئے تلخ ہوتی ہے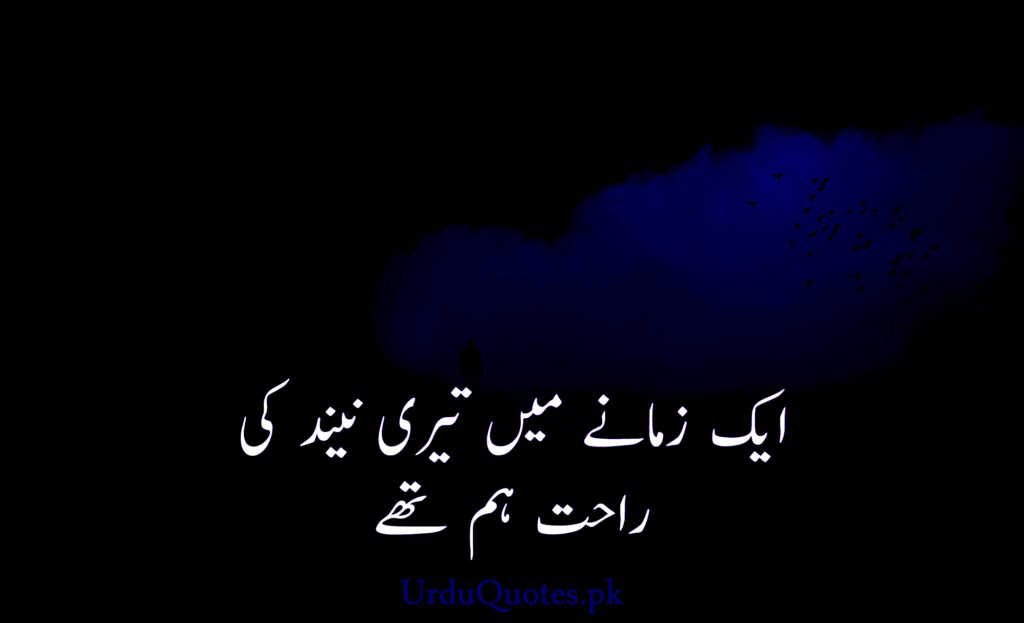 aik zamane mein teri neend ki
raahat hum thay
ایک زمانے میں تیری نیند کی
راحت ہم تھے







tareekh hazaron saal mein bas itni si badli hai
tab daur tha pathar ka ab log hain pathar ke
تاریخ ہزاروں سال میں بس اِتنی سی بدلی ہے
تَب دور تھا پتھر کا اب لوگ ہیں پتھر کے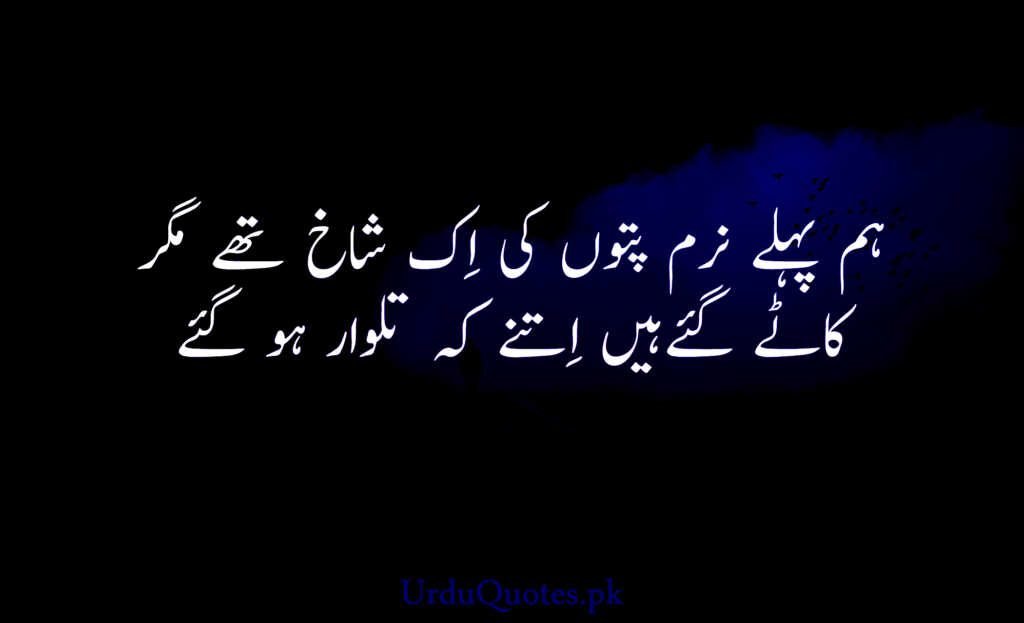 hum pehlay naram pattoun ki ik shaakh thay magar
katay gaye hain Itnay ke talwar ho gaye
ہم پہلے نرم پتوں کی اِک شاخ تھے مگر
کاٹے گئےہیں اِتنے کہ تلوار ہو گئے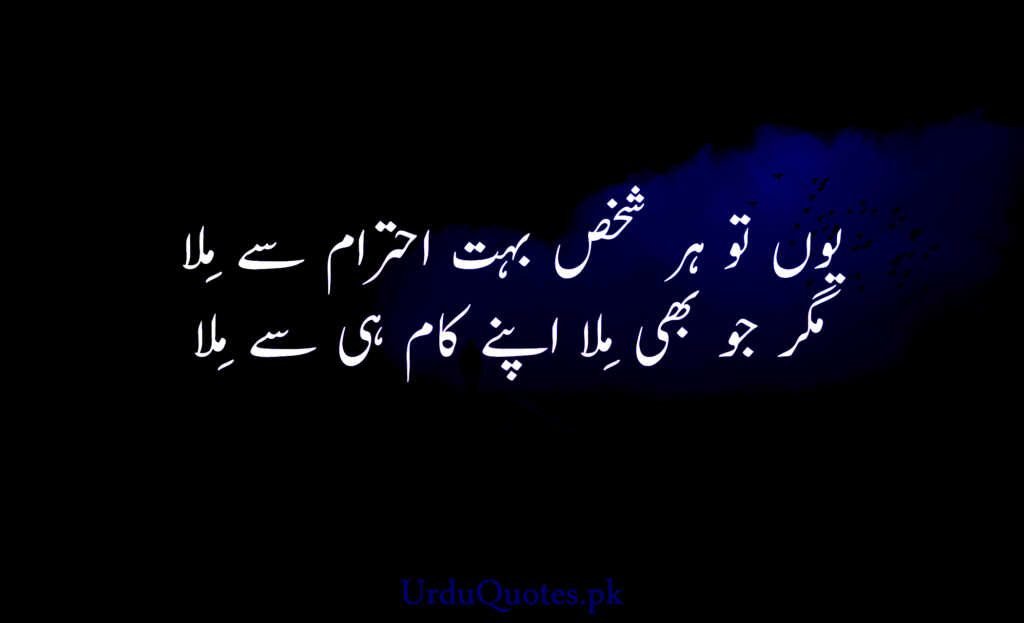 yun to har shakhs bohat ehtram se mila
magar jo bhi mila –apne kaam hi se mila
یوں تو ہر شخص بہت احترام سے مِلا
مگر جو بھی مِلا اپنے کام ہی سے مِلا




aِtna to kisi ne chaha nahi ho ga
Jitna mein ne socha hai
اِتنا تو کِسی نے چاہا نہیں ہو گا
جِتنا میں نے سوچا ہے
woh bohat mukhtasir raha mujh mein
aankh khilnay se, band honay tak
وہ بہت مختصر رہا مجھ میں
آنکھ کھلنے سے، بند ہونے تک
Conclusion
To conclude, emotional quotes in urdu are more than just words. They are tools that can help us improve our emotional well-being, enhance our relationships, and achieve our goals. Whether we need a boost of confidence, a dose of wisdom, or a reminder of gratitude, emotional quotes in urdu can provide us with the guidance and support we need. We hope that this article has inspired you to use emotional quotes in your daily life and to share them with others. Remember, the right quote at the right time can make all the difference.
Related Articles