Imagine a world where your "baap," or "Walid" in Urdu, is like a rock in your life – strong, wise, and full of love. This article is all about Baap Quotes in Urdu. These quotes are like little nuggets of wisdom and warmth that capture the special bond between father and their children.
They come from poets, storytellers, and people like you and me, and they talk about the love and respect we have for our "baaps." Let's take a journey into this world of beautiful Urdu quotes and discover the heartfelt messages that people use to express their love and admiration for their father.
Table of contents
Baap Quotes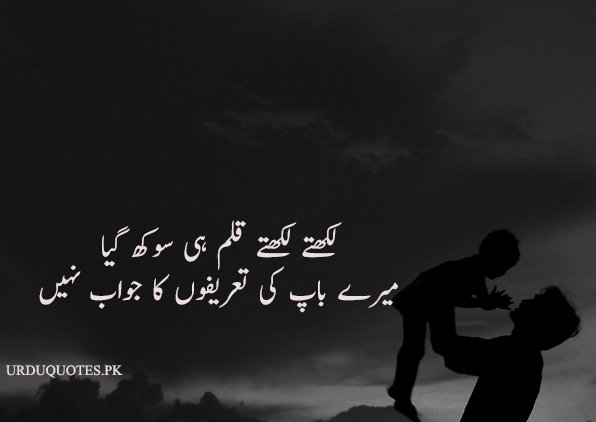 لکھتے لکھتے قلم ہی سوکھ گیا میرے باپ کی تعریفوں کا جواب
نہیں

likhte likhte qalam hi sookh gaya mere baap ki tareefon ka jawab
nahi


وہ لفظ ڈھونڈ رھا تھا، لرزتے ہونٹوں . ضعیف باپ کو، بیٹے سے بات کرنی
woh lafz dhoond raha tha, leraztay honton.
zaeef baap ko, betay se baat karni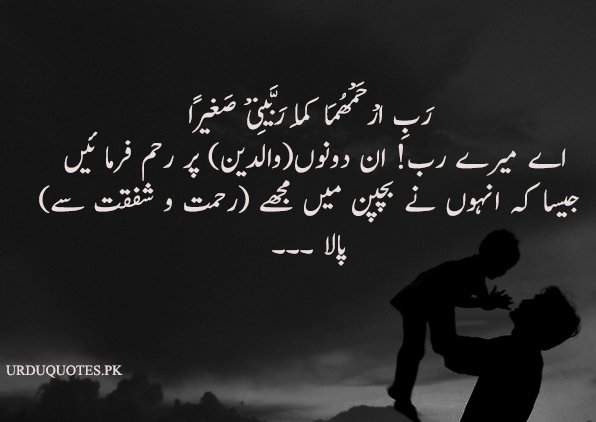 رب ارحمهما كما ربي صغيراً
اے میرے رب! ان دونوں (والدین) پر رحم فرما ئیں جیسا کہ انہوں نے بچپن میں مجھے (رحمت و شفقت سے)
پالا

ae mere rab! un dono ( walidain ) par reham farma yin
jaisa ke unhon ne bachpan mein
mujhe ( rehmat o shafqat se )
paala

اللہ کی رضا باپ کی رضا میں ہے
(الحدیث)


Allah Ki raza Main Bap ki raza hai
سارے قرض لٹائے جاس تے ہیں سوائے
اُن کے جو ہمارے " والدین" کے ہم پر ہیں


saaray karzzzz luttye jas te hain siwaye unn ke
jo hamaray" walidain" ke hum par hain


باپ ایک ایسا شجر جس کے
سائے میں بیٹیاں راج کرتی ہیں۔


baap aik aisa shajar jis ke saaye
mein betiyan raaj karti hain. :
باپ کے سائے سے بڑی
فراز دنیا میں کوئی نعمت نہیں


baab ke saaye se barri frazz
duniya mein koi Nemat nahi

میری عزت میری شہرت
میرا رتبہ اور میرا مان ہے
میرے بابا



meri izzat meri shohrat
mera rutba aur mera maan hai
mere baba
کبھی کبھی باپ چند پیسوں
سے بڑی خوشیاں خرید لاتا ہے


kabhi kabhi baap chand paison se
barri khusihyan khareed lata hai
چاہے کتنا ہی بوڑھا ہو مگر
گھر کا سب سے مضبوط ستون باپ ہی ہوتا ہے


chahay kitna hi boorha ho magar
ghar ka sab se mazboot sutoon baap hi hota hai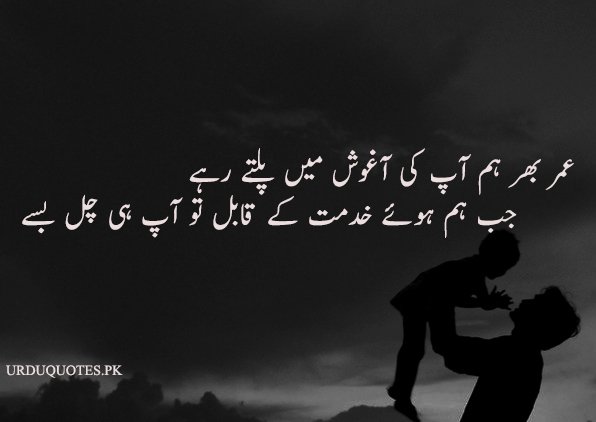 عمر بھر ہم آپ کی آغوش میں پلتے رہے
جب ہم ہوئے خدمت کے قابل تو آپ ہی چل بسے


Umar bhar hum aap ki agosh mein paltaay rahay
jab hum hue khidmat ke qabil to aap hi chal basey
یہ جو آپ نے پلکوں یہ بٹھا کر رکھا تھا
بابا
آپ کے جانے کے بعد تو کسی نے زمین پر بیٹھانے کے قابل بھی نہ سمجھا


yeh jo aap ne palkon yeh bitha kar rakha tha
baba
aap ke jane ke baad to kisi ne zameen par bithane ke qabil bhi nah samjha
Baap poetry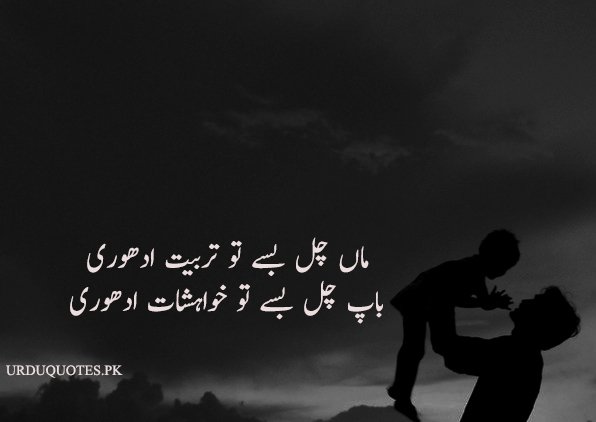 ماں چل بسے تو تربیت ادھوری
باپ چل بسے تو خواہشات ادھوری

maa chal basey to tarbiyat adhuri
baap chal basey to khwahisaat adhuri

اگر آپ کو روکنے ٹوکنے والا ڈانٹ ڈپٹ
کرنے والا کوئی موجود ہے تو شکر ادا کریں کیونکہ جس باغ کا کوئی مالی نا ہو وہ بہت جلد
اجڑ جاتا ہے


agar aap ko roknay tokne wala daant dapat
karne wala koi mojood hai to shukar ada karen kyunkay jis baagh ka koi maali na ho woh bohat jald
ujar jata hai

سہتا رہتا ہے دکھ بتاتا نہیں
باپ میرا ہو بے زباں جیسے

sehta rehta hai dukh batata nahi
baap mera ho be zuba jaisay
آپ کے والد کی ہر چیز مقدس ہے
یہاں تک کہ جوتے بھی جس کو دروازے کے سامنے دیکھ کر آپ کو تحفظ کا احساس
ہوتا ہے


aap ke waalid ki har cheez muqaddas hai
yahan tak ke jootay bhi jis ko darwazay ke
samnay dekh kar aap ko tahaffuz ka ehsas
hota hai


باپ ایک ایسی ہستی ہیں جو اپنی عمر اولاد
کی خواہشیں پوری کرنے میں گزار دیتا ہے

baap aik aisi hasti hain jo apni Umar aulaad ki
khuwaishe poori karne mein guzaar deta hai

باپ ہر چیز لاتا ہے ہر خواہش پورا خواہش پورا
کرتا ہے بیٹی کے لیے جو نہیں بدل سکتا وہ ہے بیٹی کا


baap har cheez lata hai har khwahish poora
khwahish poora karta hai beti ke liye jo nahi
badal sakta woh hai beti ka
Conclusion

Hope you have enjoyed baap quotes in urdu.These Baap Quotes in Urdu are like love notes that remind us of the special bond with our father. This connection goes beyond words and cultures. As we wrap up this journey, remember the warmth and wisdom these quotes share. The love between a child and father is a precious thing, and these quotes capture that beautifully. So, let's keep cherishing the love and respect for our father because it's a feeling that will always hold a special place in our hearts.