Feeling unsure about trusting people lately? Sometimes, it happens when we least expect it. But don't worry, we have something to help you feel more trust. In this article, we'll share some inspiring quotes on trust in Urdu that will connect with your heart and soul. These quotes in urdu show what it means to believe in others and remind us how important trust is for strong relationships. So, just relax and let these beautiful words help you understand trust better.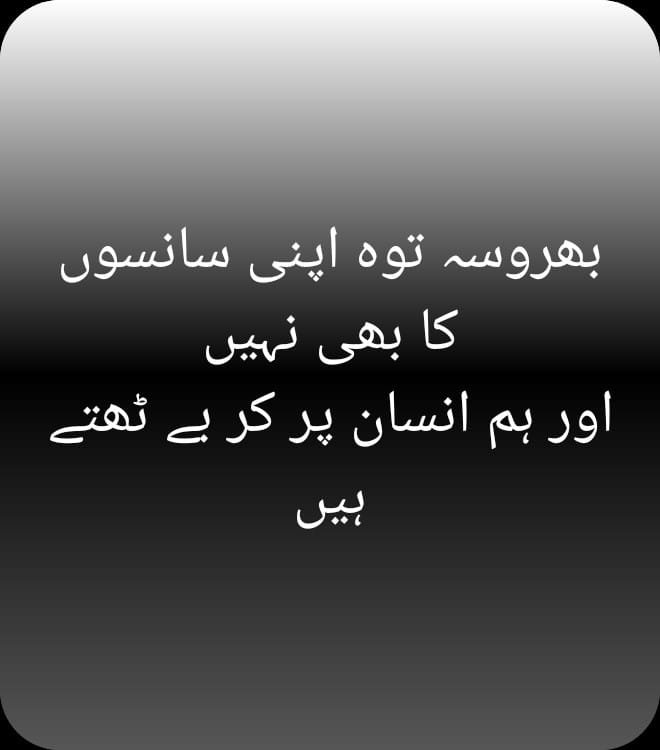 بھروسہ توہ اپنی سانسوں
کا بھی نہیں
اور ہم انسان پر کر بے ٹھتے
ہیں


bharosa toh apni saanson
ka bhi nahi
aur hum insaan par kar be ٹھتے
hain
میرا بھروسہ ایسے ہی نہیں
ٹوٹا
مے نے دیکھا ہے تجھے غیروں کی باہوں میں دل لگاتے ہوئے


mera bharosa aisay hi nahi
toota
me ne dekha hai tujhe gheiron ki bahoun mein dil lagatay hue
سچی محبت میں پہلا کدم کا
ایک دوسرے پر بھروسے ہوتا ہے


sachhi mohabbat mein pehla کدم ka
aik dosray par bharoosay hota hai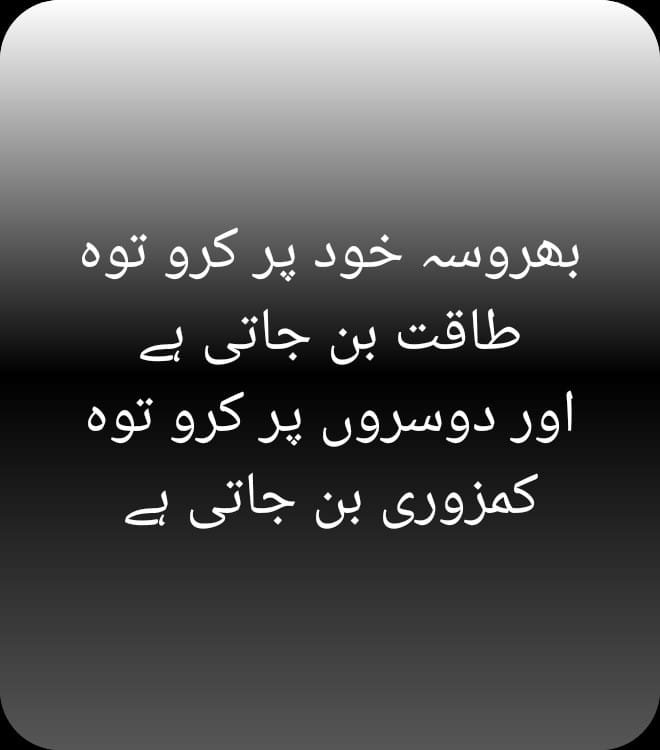 بھروسہ خود پر کرو توہ طاقت بن جاتی ہے اور
دوسروں پر کرو توہ کمزوری بن جاتی ہے


bharosa khud par karo toh taaqat ban jati hai aur
doosron par karo toh kamzoree ban jati hai
بھروسہ وہ دیوار ہے جسے ایک بار توڑ دیا جائے
توہ پھر دوبارہ نہیں بن سکتی

bharosa woh deewar hai jisay aik baar toar diya jaye
toh phir dobarah nahi ban sakti
دل کو تیری چاہت ہےته تا بھروسہ بھی بہت ہے
اور تجھ سے بچھڑ جانے کا ڈر بھی نہیں جاتا

dil ko teri chahat hai t_h taa bharosa bhi bohat hai
aur tujh se bhichar jane ka dar bhi nahi jata
تم سمندر کی رفاقت ہے بھروسہ نہ کرو
تشنگی لب پے سجائے ہوئے مر جاؤگے

tum samandar ki rafaqat hai bharosa nah karo
tashnagi lab pay sajaye hue mar jaoge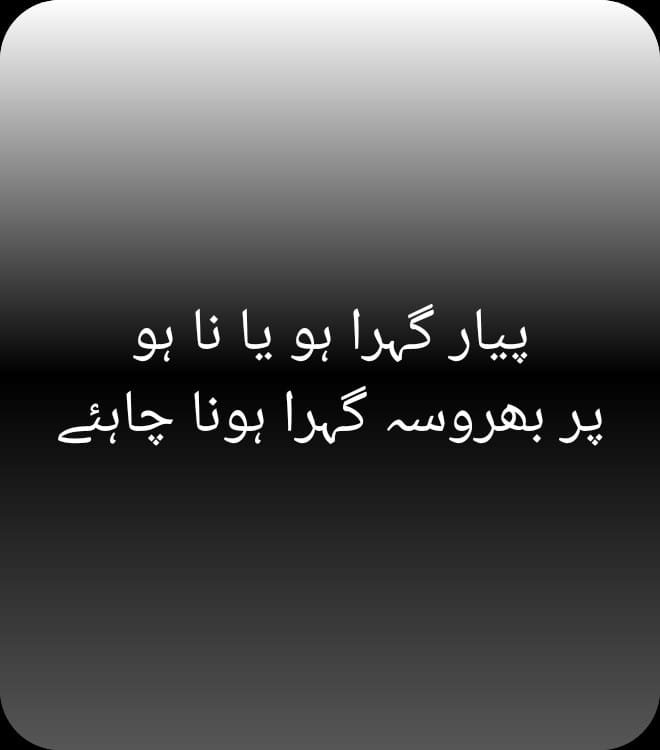 پیار گہرا ہو یا نا ہويانا
پر بھروسہ گہرا ہونا چاہئے

pyar gehra ho ya na ہویانا
par bharosa gehra hona chahiye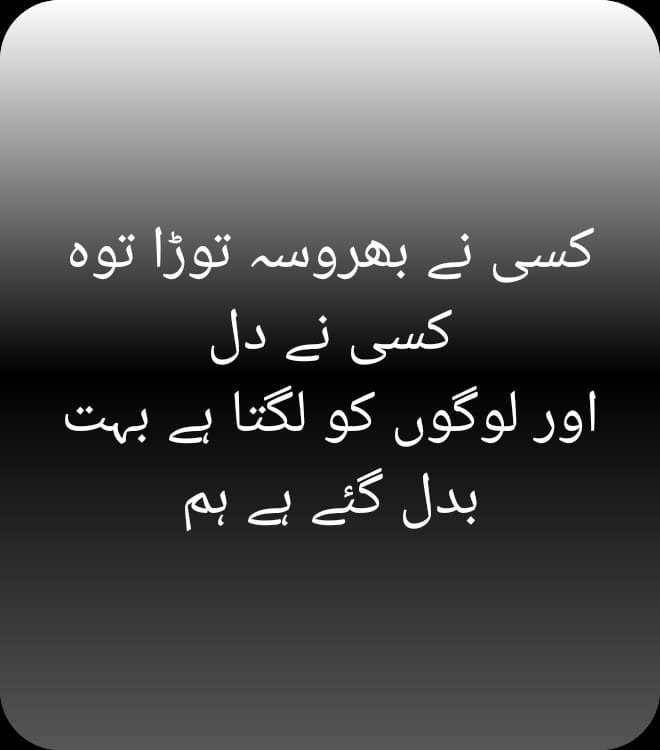 کسی نے بھروسہ توڑا توہ کسی نے دل
اور لوگوں کو لگتا ہے بہت بدل گئے ہے ہم


kisi ne bharosa tora toh kisi ne dil
aur logon ko lagta hai bohat badal gaye hai hum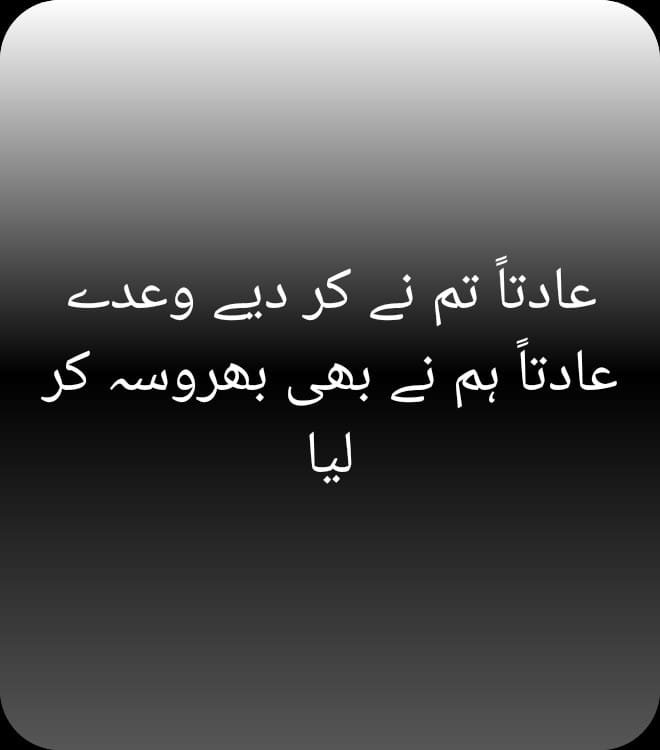 عادتاً تم نے کر دیے وعدے عادتاً ہم نے بھی بھروسہ کر
ليا

aadtan tum ne kar diye waday aadtan hum ne bhi bharosa kar
liya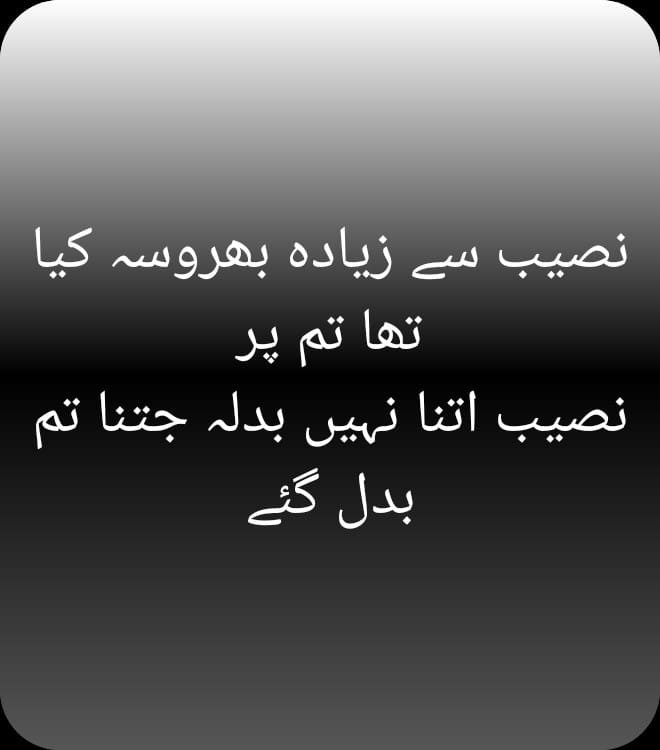 نصیب سے زیادہ بھروسہ کیا تھا تم پر
نصیب اتنا نہیں بدلہ جتنا تم بدل گئے

naseeb se ziyada bharosa kya tha tum par
naseeb itna nahi badla jitna tum badal gaye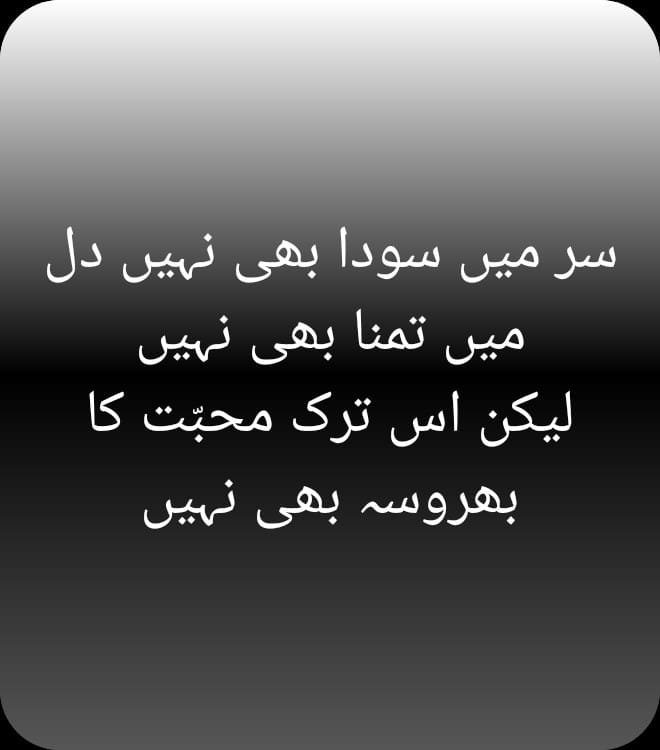 سر میں سودا بھی نہیں دل میں
تمنا بھی نہیں لیکن اس ترک محبّت کا بھروسہ بھی نہیں

sir mein soda bhi nahi dil mein
tamanna bhi nahi lekin is tark mohabbat ka bharosa bhi nahi
بھروسہ رشتے کی سب سیـ مہنگی
اور سب سے پہلی شرط ہے

bharosa rishte ki sab سی- mehngi
aur sab se pehli shart hai
بار بار معاف توہ کیا جا سکتا ہے
پر بھروسہ صرف ایک بار ہی ہوتا ہے

baar baar maaf toh kya ja sakta hai
par bharosa sirf aik baar hi hota hai
پہچان سب سے رکھو
پر بھروسہ صرف خود پر

pehchan sab se rakho
par bharosa sirf khud par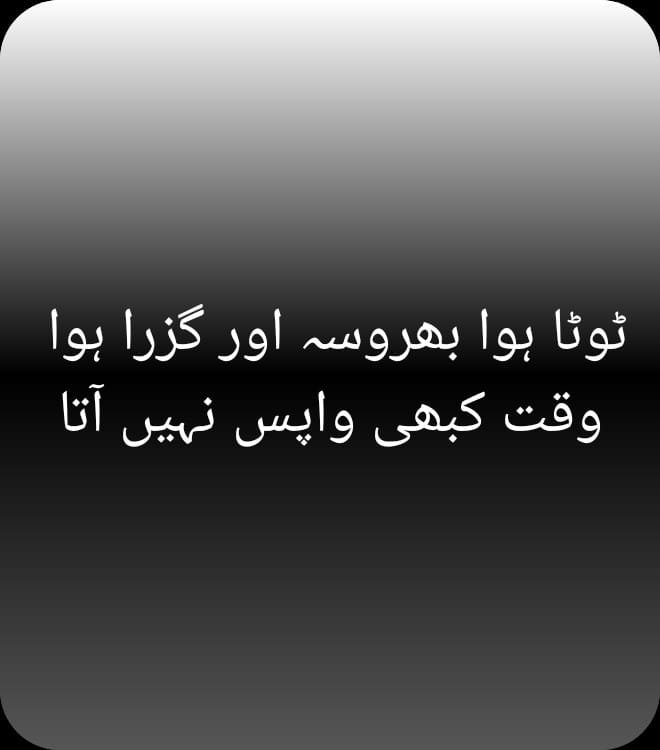 ٹوٹا ہوا بھروسہ اور گزرا ہوا
وقت کبھی واپس نہیں آتا

toota sun-hwa bharosa aur guzra sun-hwa
waqt kabhi wapas nahi aata
conclusion
In conclusion, these Urdu quotes on trust in emphasize how important trust is in our lives. Trust is like the strong base of any good relationship, whether it's with friends, family, or coworkers. Quotes on trust in urdu remind us that trust is something valuable that we shouldn't take lightly, and it's earned by being honest and reliable. They also tell us it's important to trust ourselves and our feelings. Trust quotes are a reminder to take care of the trust we have in others and the trust they have in us. Trust is a precious thing that we should protect and value no matter what. So, let's work to create strong relationships based on trust, because it's through trust that we can truly feel love, support, and meaningful connections with others.