Maulana Jalaluddin Rumi was a 13th-century Persian poet, jurist, Islamic scholar, theologian, and Sufi mystic. He is widely regarded as one of the greatest poets and spiritual masters of all time. His poetry transcends cultural and religious boundaries, and has been translated into many languages, including Urdu. In this blog post, we will explore some of the wisdom and beauty of Maulana Rumi quotes in Urdu.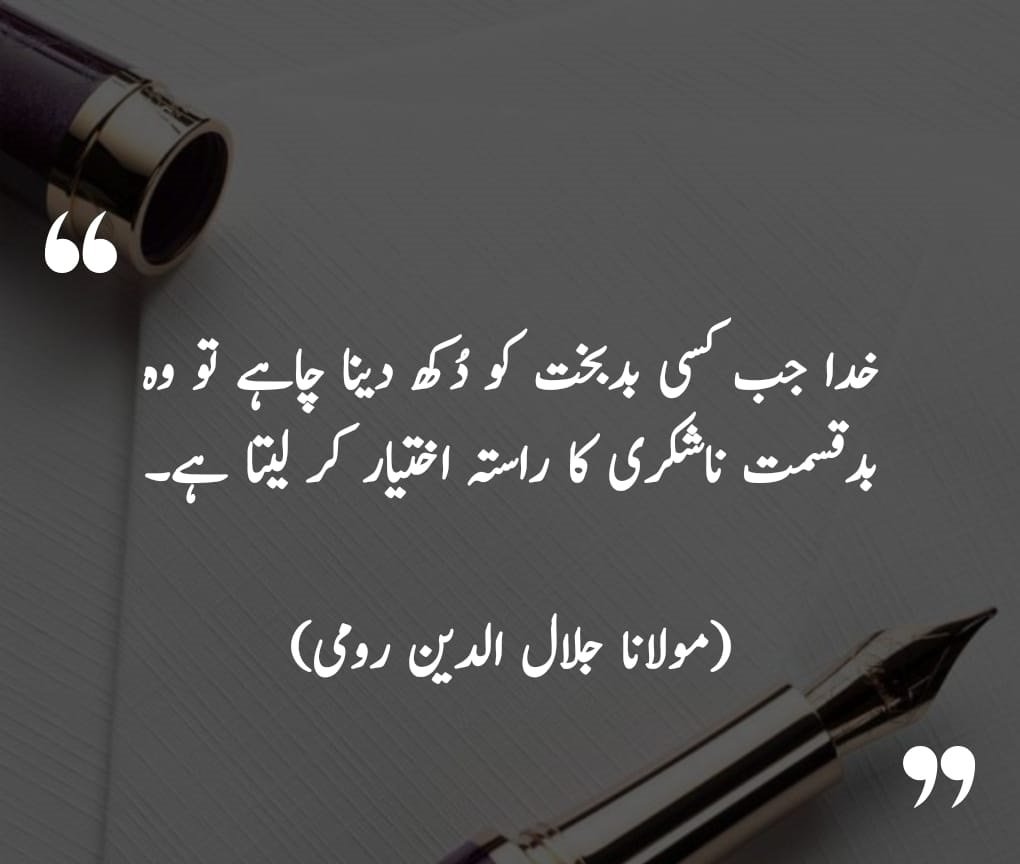 خدا جب کسی بدبخت کو دُکھ دینا چاہے تو وہ
بد قسمت ناشکری کا راستہ اختیار کر لیتا ہے۔
(مولانا جلال الدین رومی)

Huda Jab Ksi Badbakt ko dukh dena chahy
to wo bad Qismat Na shukry ka rastah
Ikhtayar kar leta hai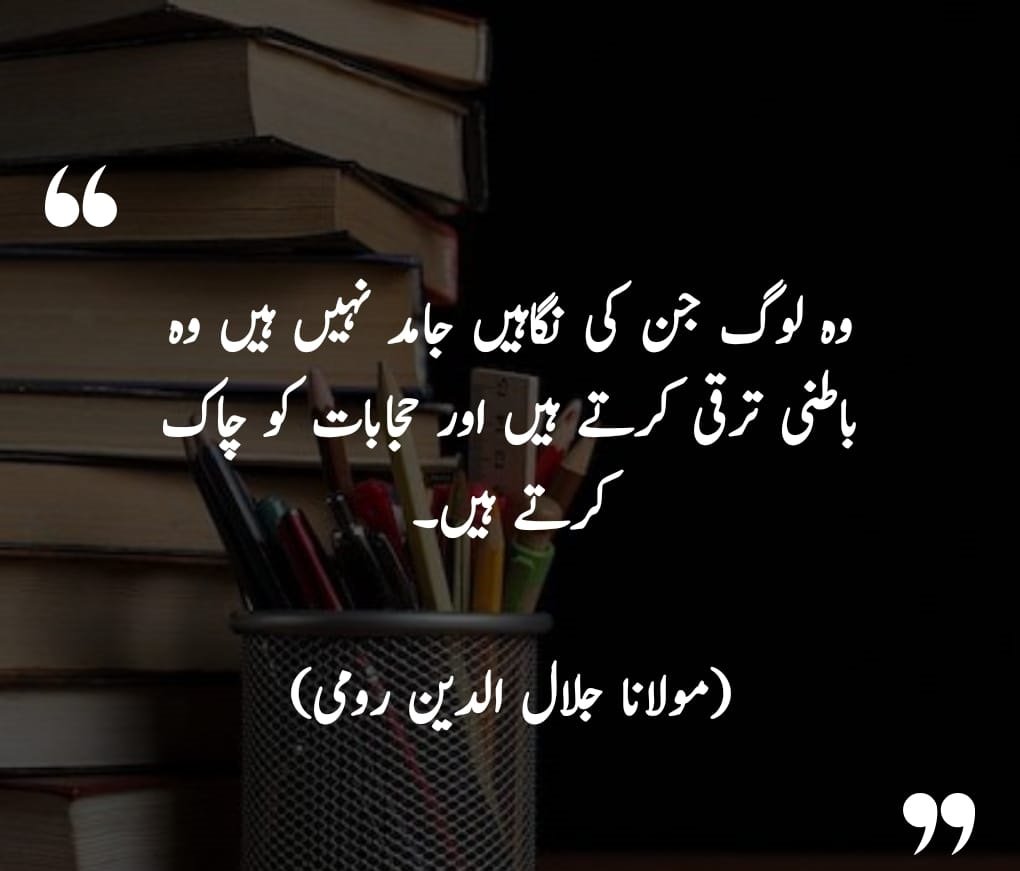 وہ لوگ جن کی نگاہیں جامد نہیں ہیں
وہ باطنی ترقی کرتے ہیں اور حجابات کو چاک
کرتے ہیں۔
(مولانا جلال الدین رومی)


Wo log jin ky nigahhain jamd nahi hain
wo log batny taraqy karty hain aur hajabat ko Chak karty hain





گمراہی بھی علم سے پیدا ہوتی ہے اور ہدایت
بھی جیسے تری سے کڑوا پن اور میٹھا پن بھی۔
(مولانا جلال الدین رومی)

Gumrahy bhi ilm sy pada hoty hai aur idayat bhi
jaisy try sy metha pan aur karwa pan bhi


دوستی ہی کے ذریعہ سے محبت و عداوت پیدا ہوتی ہے اور غزا ہی کے ذریعہ صحت و
مرض لاحق ہوتا ہے۔
(مولانا جلال الدین رومی)


Dosty hi ky ziraya sy Muhabbat o Adawat pada hoty hai
Aur gza hy ky zirya sehat aur marz lahaq hota hai

شخص تعلیم کو قبول نہیں کر سکتا
وہ شخص يقينا قابل گویائی نہیں ہو سکتا ہے۔

Sakh taleem ko kabool nahi kar sakta
wo sakhs yaqeenan qabl goyani nahi ho sakta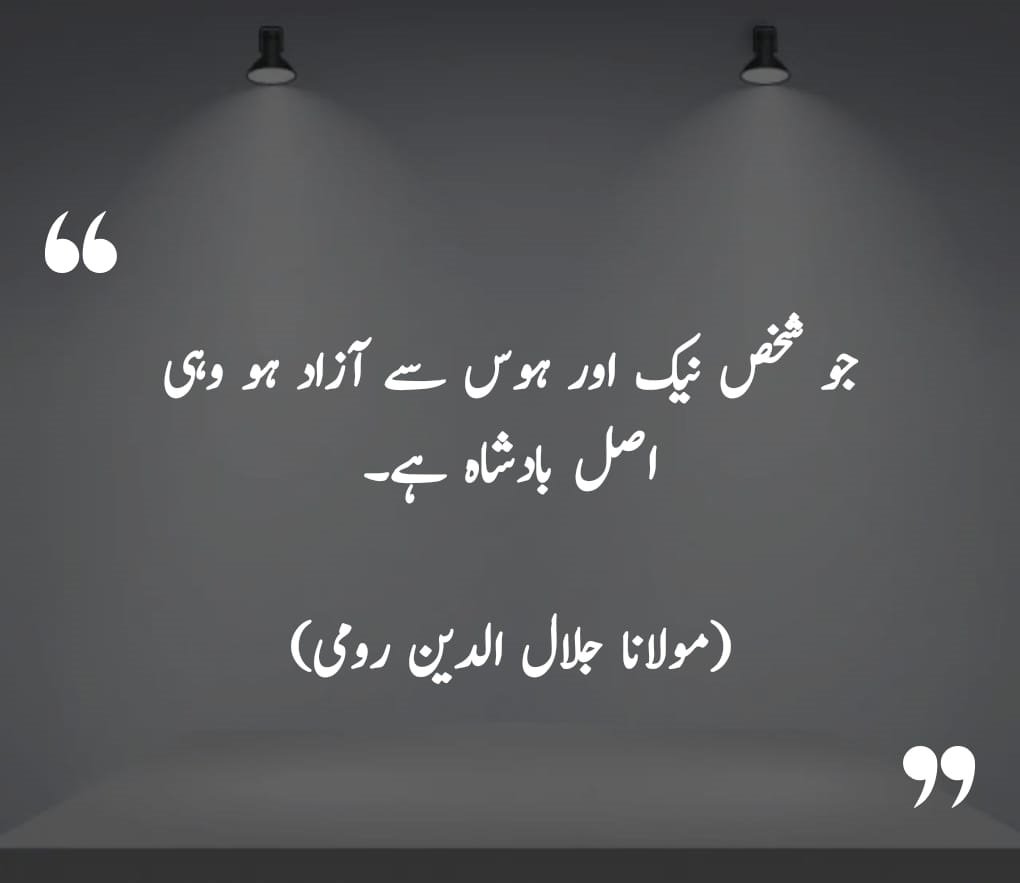 جو شخص نیک اور ہوس سے
آزاد ہو وہی اصل بادشاہ ہے۔

Jo sakhsh naik aur hawas sy
Azad ho wohy Asl badsha hai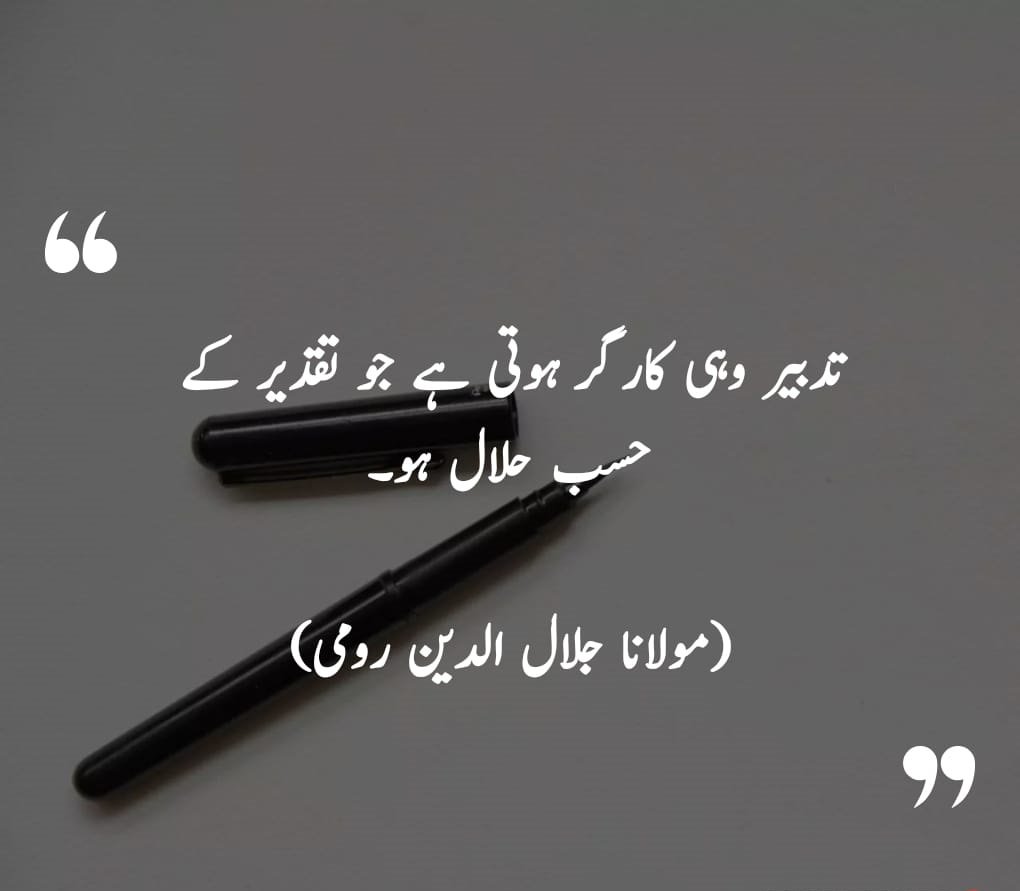 تدبیر وہی کارگر ہوتی ہے
جو تقدیر کے ہے۔ حسب حلال ہو۔


Tadbeer wohy kar ghar hoty hai
jo taqdeer ky hai. Hisb e halal ho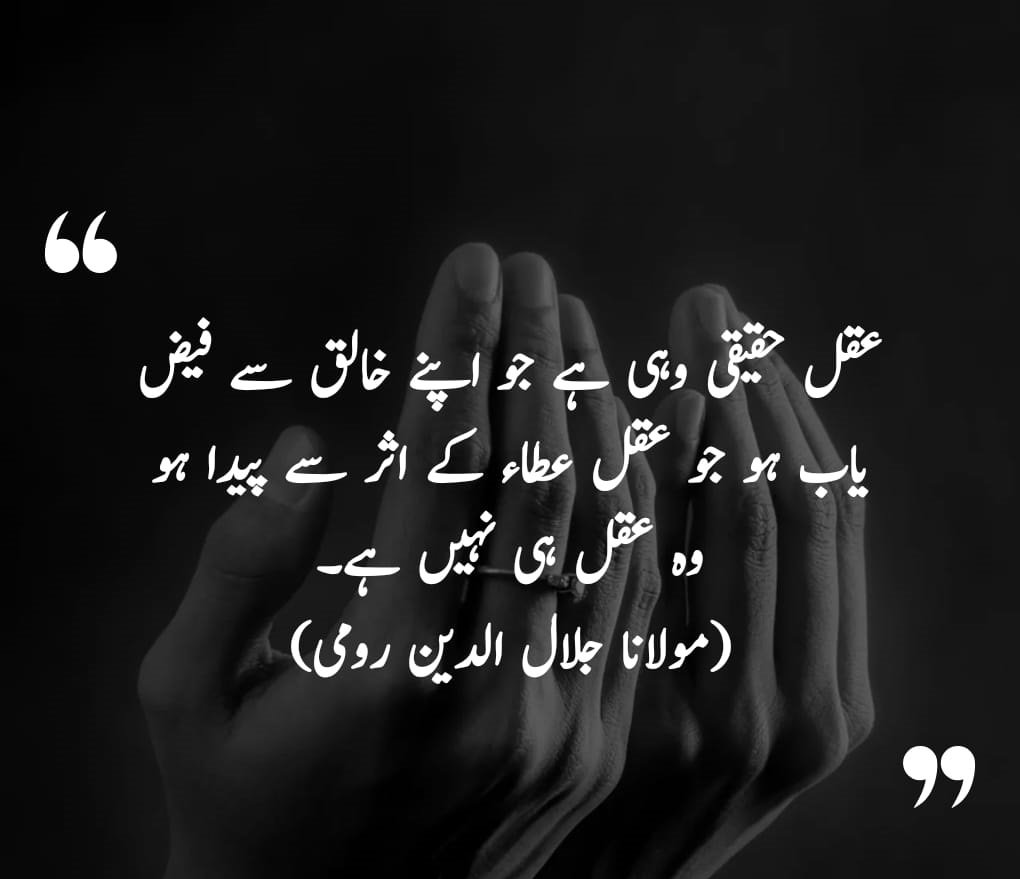 عقل حقیقی وہی ہے جو اپنے خالق سے فیض یاب ہو جو عقل عطاء کے اثر سے پیدا ہو
وہ
عقل ہی نہیں
ہے۔

Aqal wohi hai jo Apny haliq sy Faiz yab ho
jo aqal Atah ky asr sy Paida ho wo aqal hi nahi hai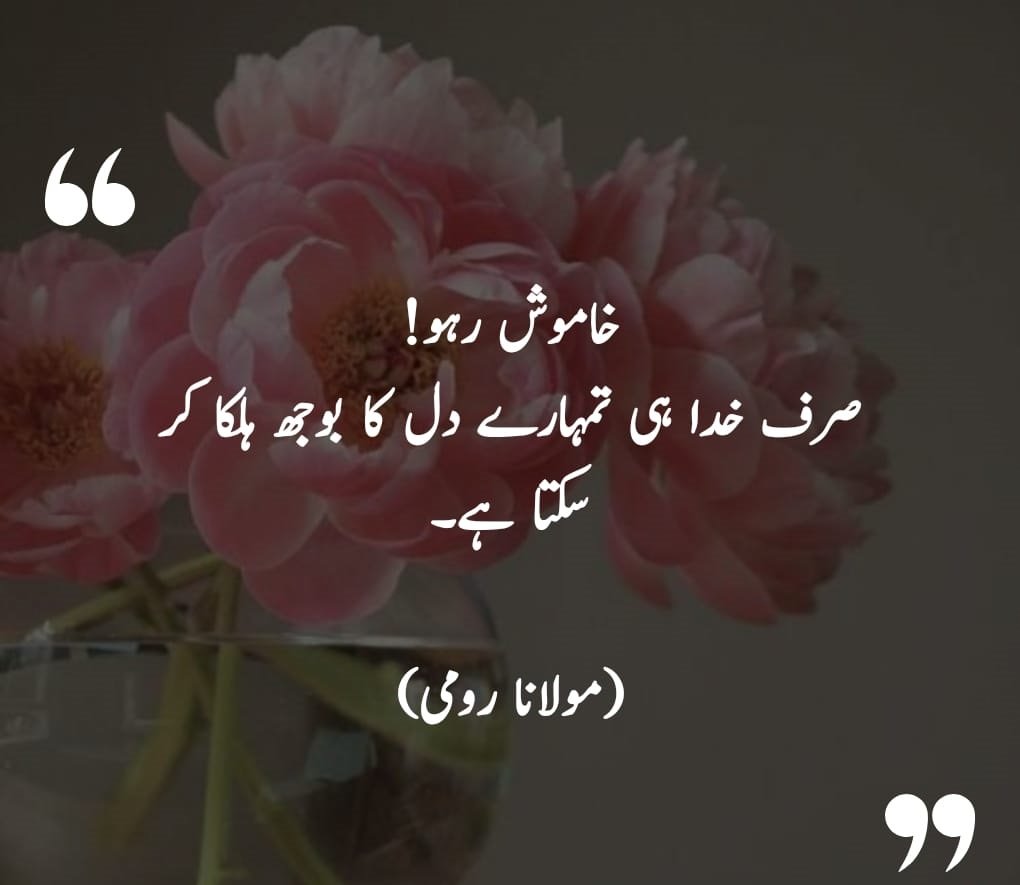 خاموش رہو
صرف خدا ہی تمہارے دل کا بوجھ ہلکا کر
سکتا ہے۔


Hamoosh raho Sirf Khuda hy tumharay dil
ka Boj halka kar sakta hai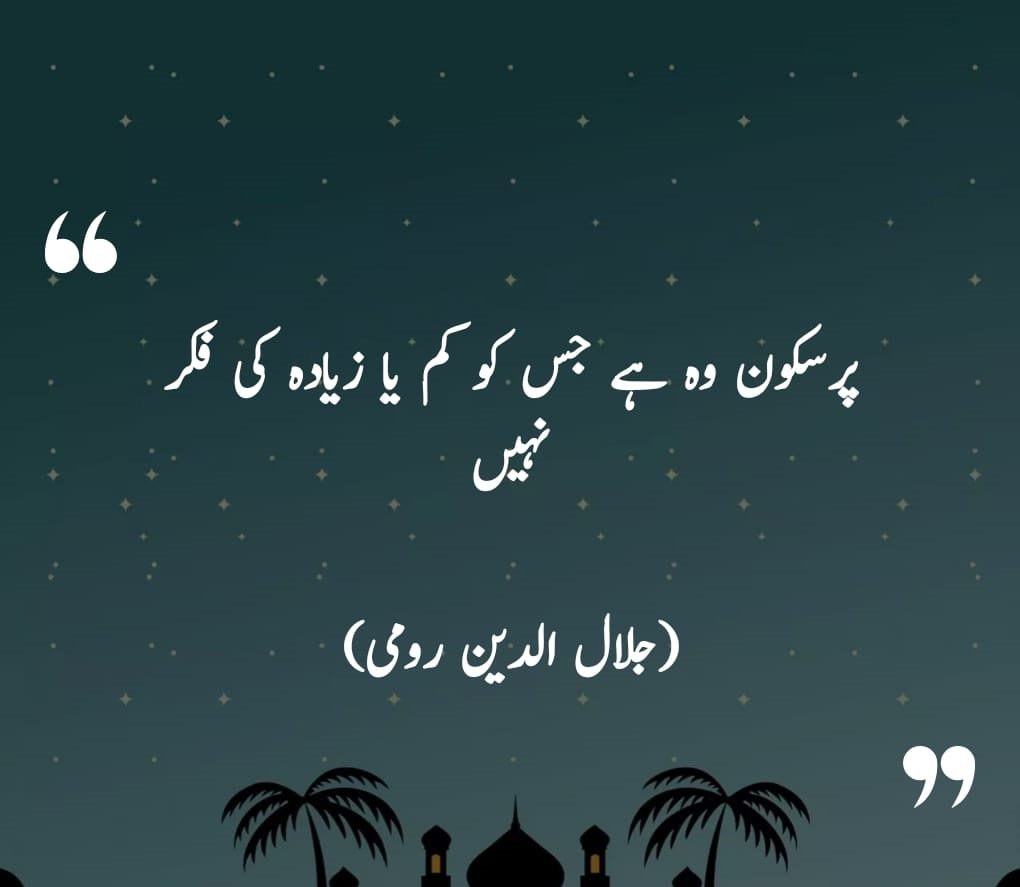 سکون وہ ہے جس کو کم یا
زیادہ کی فکر نہیں

Sakoon wo hai jis ko kam ya
zayada ki fikr nahi

تمہاری اصل ہستی تمہاری سوچ ہے
باقی تو صرف ہڈیاں اور خالی گوشت ہے


Tumhary Asl hasty timahry souch hai
Baqi to sirf Hadyan aur khali Ghost hai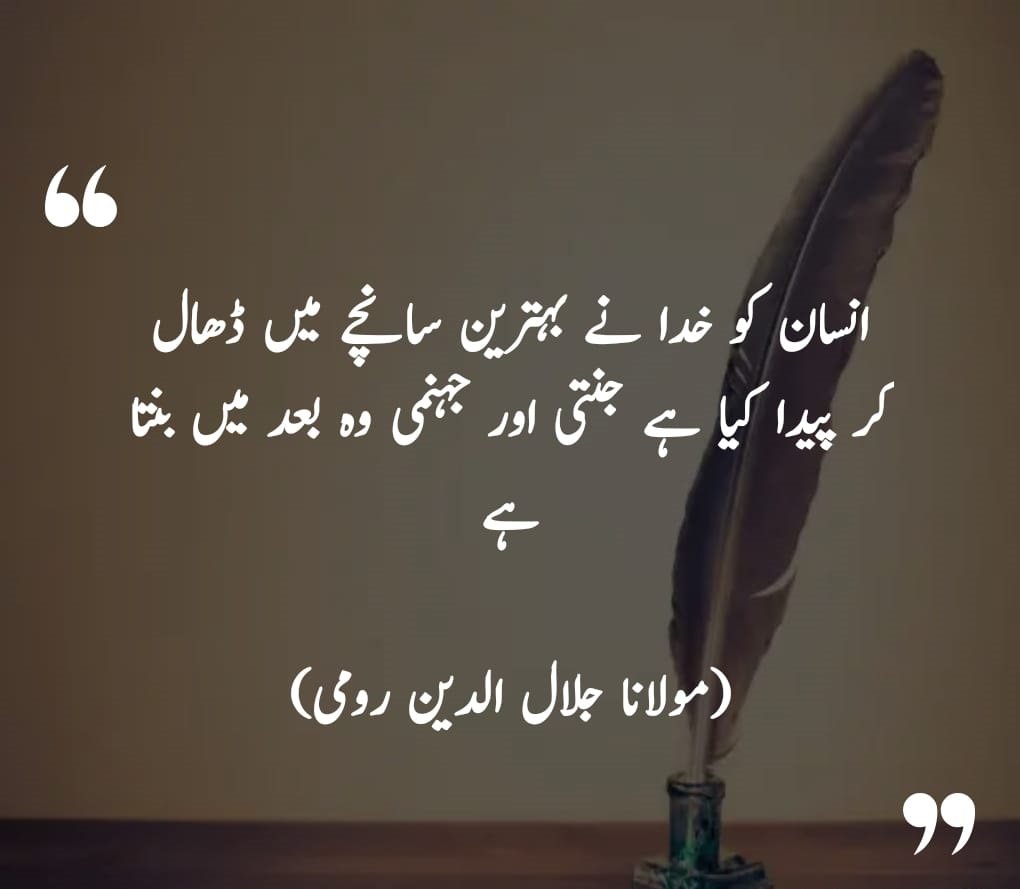 انسان کو خدا نے بہترین سانچے میں ڈھال کر
پیدا کیا ہے جنتی اور جہنمی وہ بعد میں بنتا


Insan ko Khuda ny Behtreen sanchy
my pada kia Janty aur jahanmy
wo bad main banta hai
اللہ تعالی جب کسی بندے سے ناراض ہوتا ہے
تو اسے پاکیزہ لوگوں کی عیب جوئی میں
مشغول کر دیتا ہے

Allah jab ksi bandy sy naraz hota hai
to isy pakeza logon ki aib joi main mashgool kar deta hai

جب انسان کی انکھوں سے ندامت کے
انسو بہتے ہیں تو اس پر رب کی رحمت برستی ہے


Jab in san ky ankoon sy nadamat ky ansoon beahty hain
to is par rab ki rahmat barasty hai

اگر ہر بے ہودہ محض اپنی عقل کے ذریعہ سے حقیقت کو پالیتا تو
اللہ تعالی اتنے انبیاء علیہ السلام کو کاہے کو بھیجتا۔

Agr har by hoda Mahz apni Aqal ky zareya sy haqeeat
ky zarya sy haqeeqat ko palta to Allah itny imbiya ko
ku bejta
Conclusion
Maulana Rumi was a remarkable poet and spiritual master, whose words have touched millions of hearts across the world. His quotes in Urdu are a treasure of wisdom and beauty that can enrich our lives and souls. We hope that this blog post has given you a glimpse of the depth and splendor of golden sayings of Maulana Rumi quotes in Urdu.