Sheikh Saadi was a smart person from Persia a long time ago, in the 13th century. He said really clever things that people still like to read today. His words are so good that they make sense to people even now, even though he lived a very long time ago. These are the golden words that can also be called Aqwal. In this article, we look at some of Sheikh Saadi Quotes in Urdu. They help us understand things like life, love, being spiritual, and how people act. If you want to feel inspired or just like reading wise words in poetry, come along with us to discover Sheikh Saadi quotes in urdu.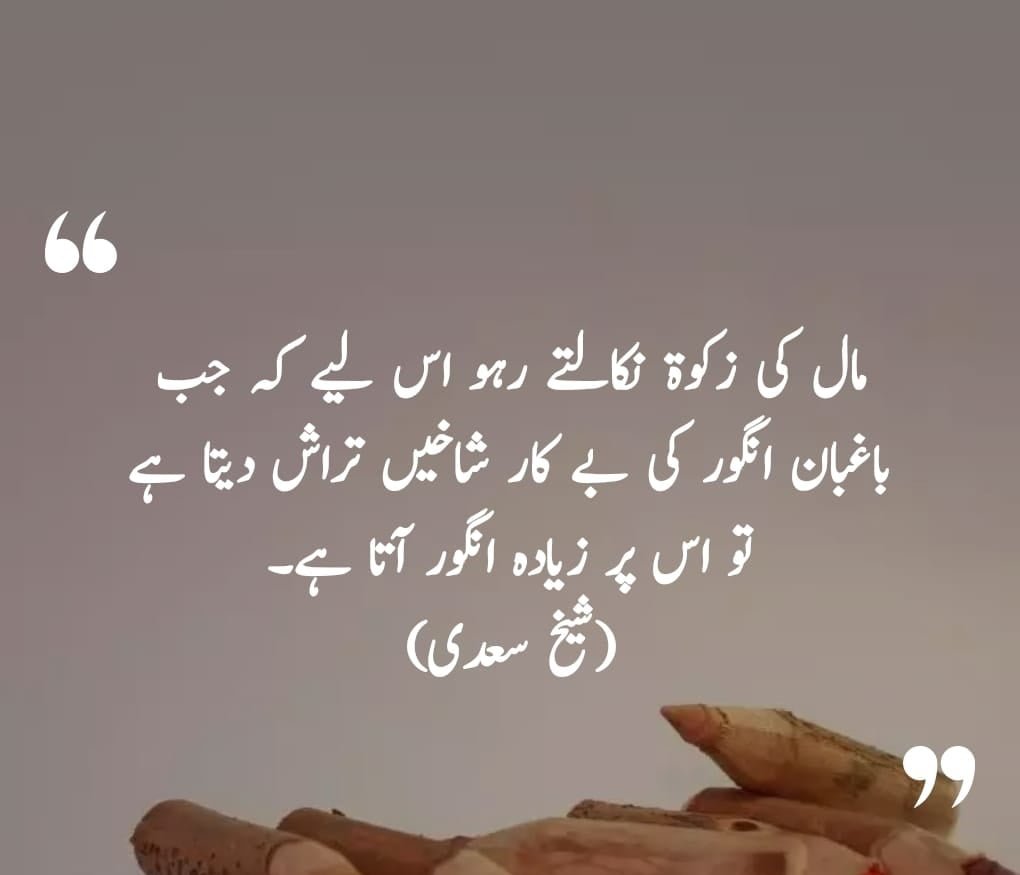 مال کی زکوۃ نکالتے رہو اس لیے
کہ جب باغبان انگور کی بے کار
شاخیں تراش دیتا ہے تو اس پر زیادہ انگور آتا ہے۔

mal ki zikah nikalty raho is iya kah baghban ingorki by kar
shakhan tarsh deta hai to is par zayada ingor ata hai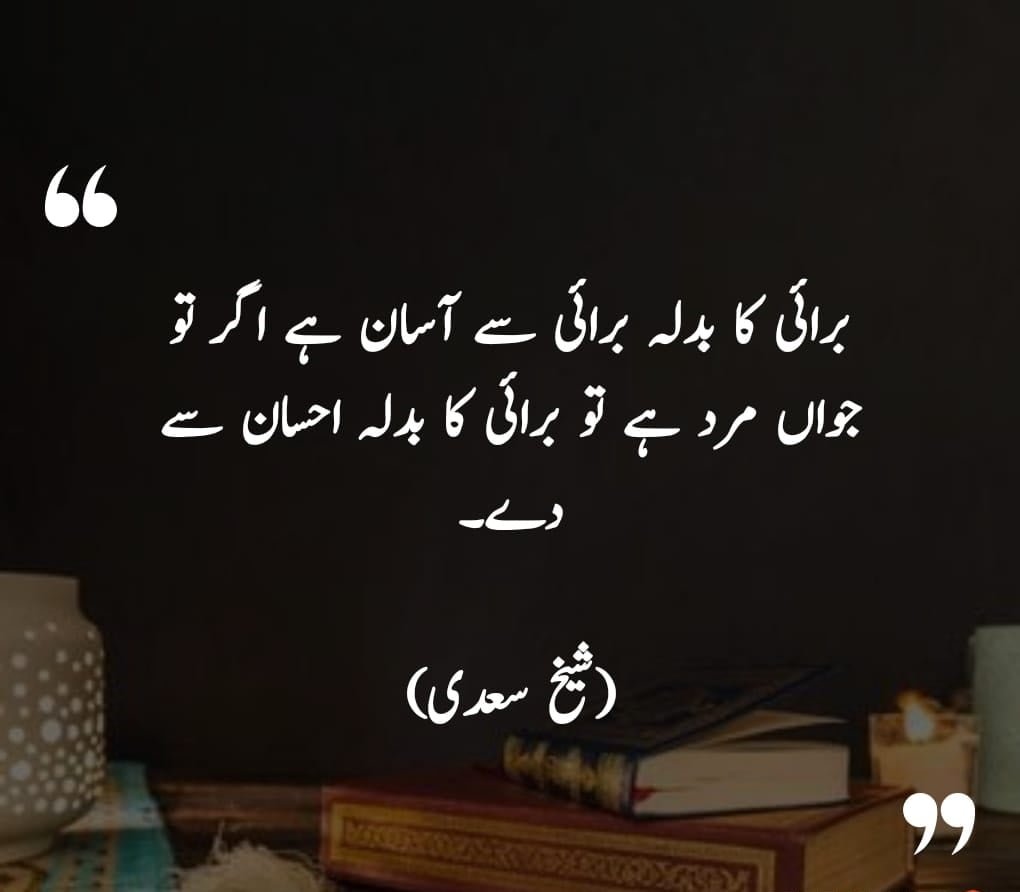 برائی کا بدلہ برائی سے آسان ہے اگر تو جواں مرد ہے تو برائی کا بدلہ احسان سے


Burai ka badla burai sy asan hai
agar to jawan mard hai to burai ka
badla ahsan sy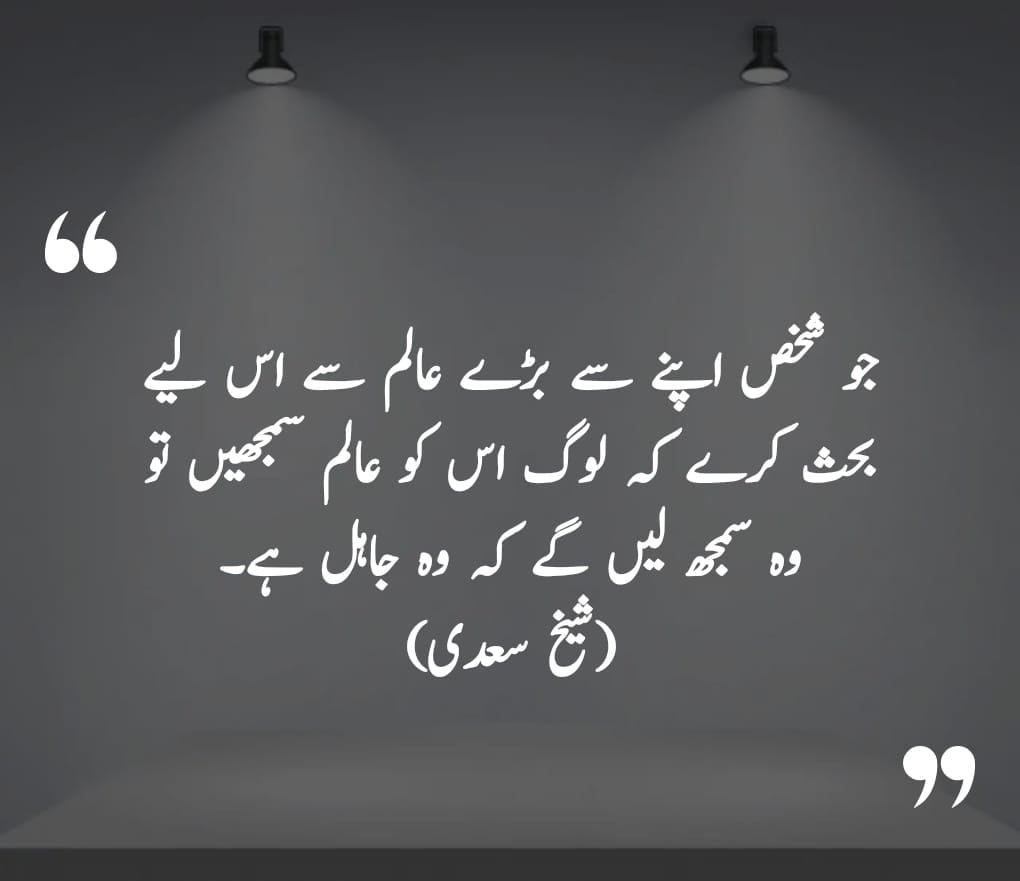 جو شخص اپنے سے بڑے عالم سے اس لیے بحث کرے کہ
لوگ اس کو عالم سمجھیں تو وہ سمجھ لیں گے کہ وہ جاہل ہے۔

Jo saksh apny sybary aam sy is liya behas kray kah
log is ko alam samjahin to wo samagh lain gy
kah wo jahi hai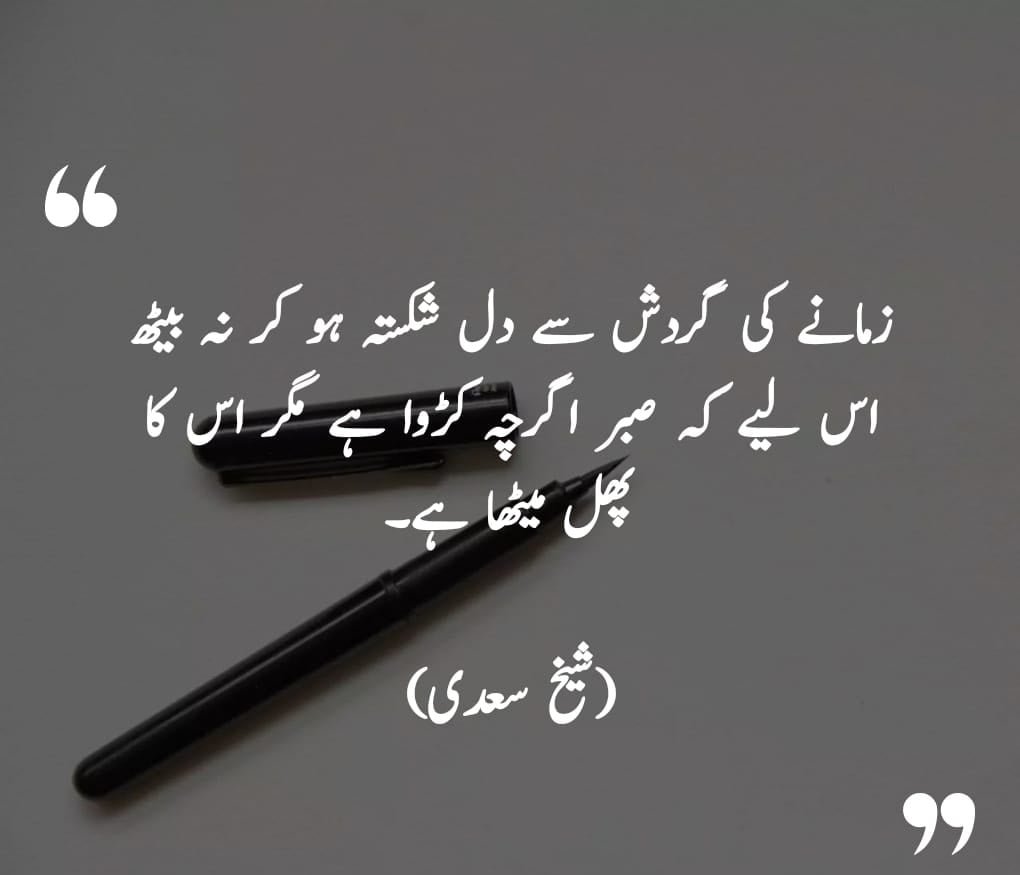 زمانے کی گردش سے دل شکستہ ہو کر نہ بیٹھ
اس لیے کہ صبر اگرچہ کڑوا ہے مگر اس کا
پھل میٹھا ہے۔


Zamany ky gardis sy dil sikasta ho kar na badth
isliya kah sabr igr cha karwa hai magr
is ka phal metha hai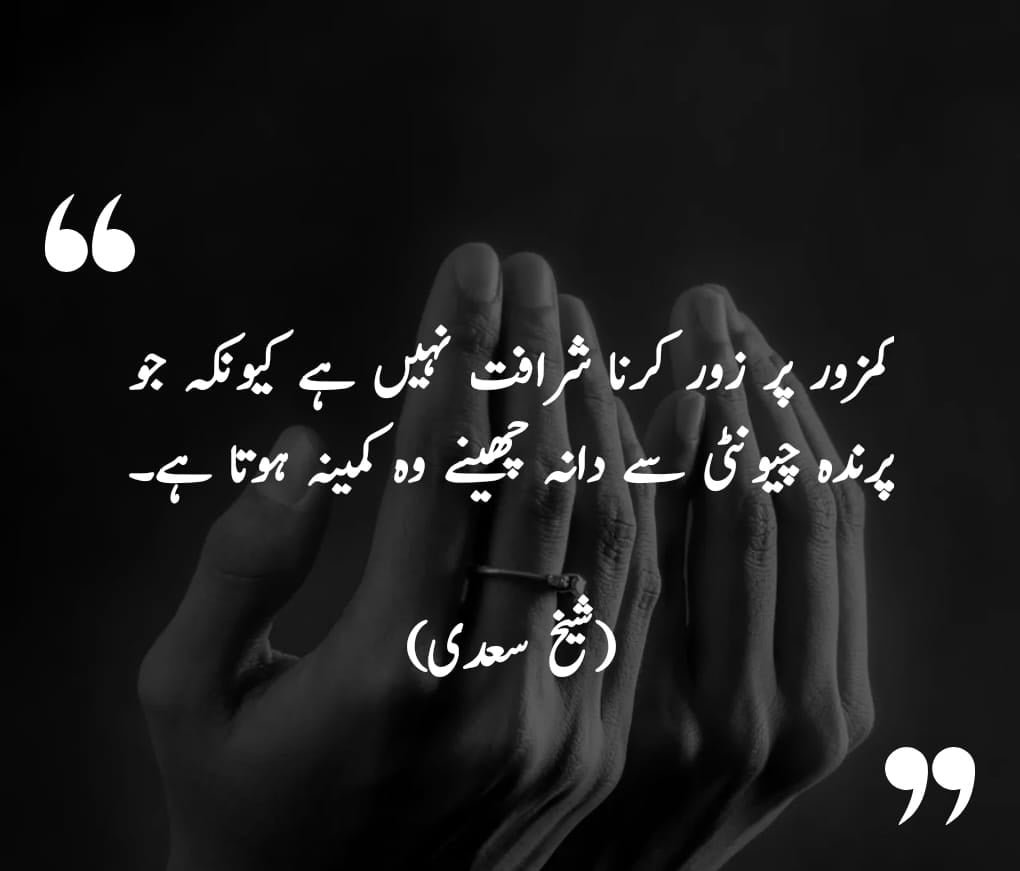 کمزور پر زور کرنا شرافت نہیں ہے کیونکہ
جو پرندہ چیونٹی سے دانہ چھینے وہ کمینہ ہوتا ہے۔


kamzoor par zoor karna shrafat nahi hai kunkah
jo parenda chewnty sy dana cheny wo kamena hota hai

اگر کوئی مانگنے والا عاجزی سے تجھ سے مانگے
تو اس کو دے دو ورنہ کوئی ظالم تجھ سے
زور سے لے لے گا


Agar koi mangny wala ajzy sy tujh sy mangy to
is ko dy do warna koi zalim tujh sy zoor sy ly ly ga

بوجھ اٹھانے والے بیل اور گدھے، لوگوں کو
ستانے والے انسانوں سے بہتر ہیں۔

Bojh uthany waly or gadhy logoon ko
satany waly insanoon sy behtar hain

اگر روزی عقل سے حاصل کی جاتی ت
و دنیا کی تمام بیوقوف بھوکے مر جاتے۔

Agar Rozy Aqal sy hasil ki jaty to dunya
tamam bewaqoof bhoky mar jaty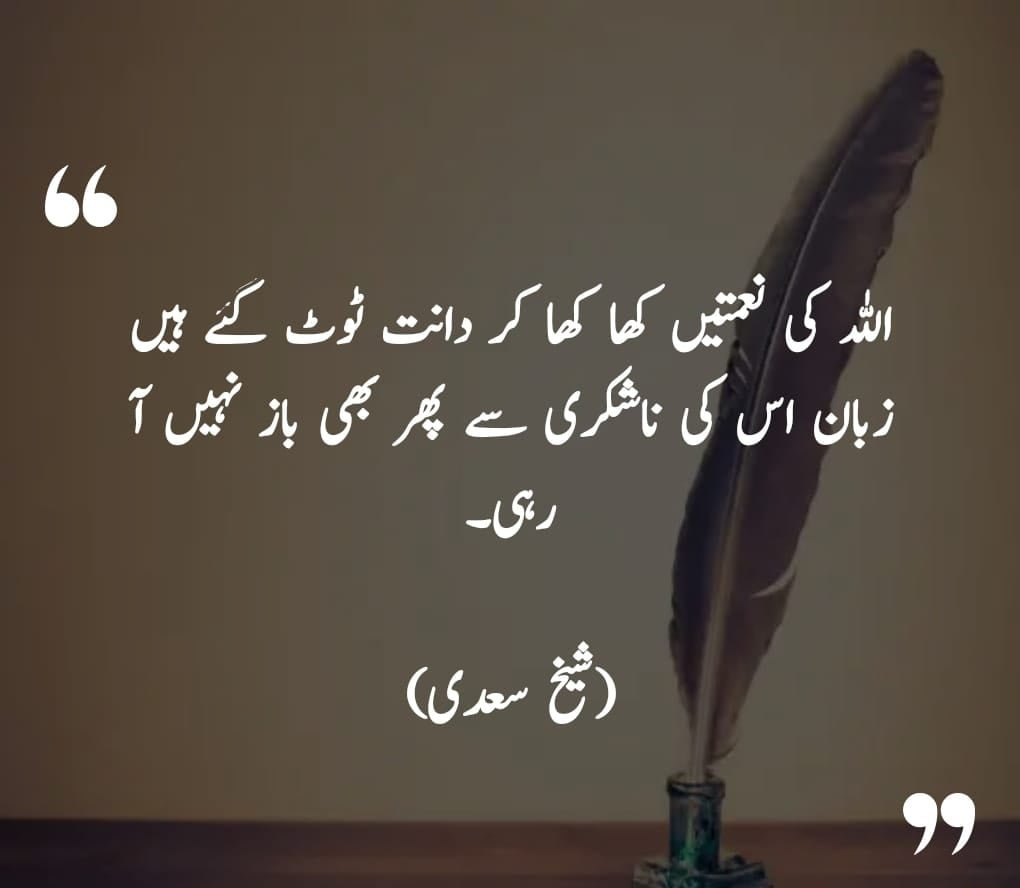 اللہ کی نعمتیں کھا کھا کر دانت ٹوٹ گئے
ہیں زبان اس کی ناشکری سے پھر بھی باز نہیں آ
رہی۔


Allah ki namateen kha kha kar dant tot gai hain
zaban is ky na shukry sy phir bhi baz nahi aa rahy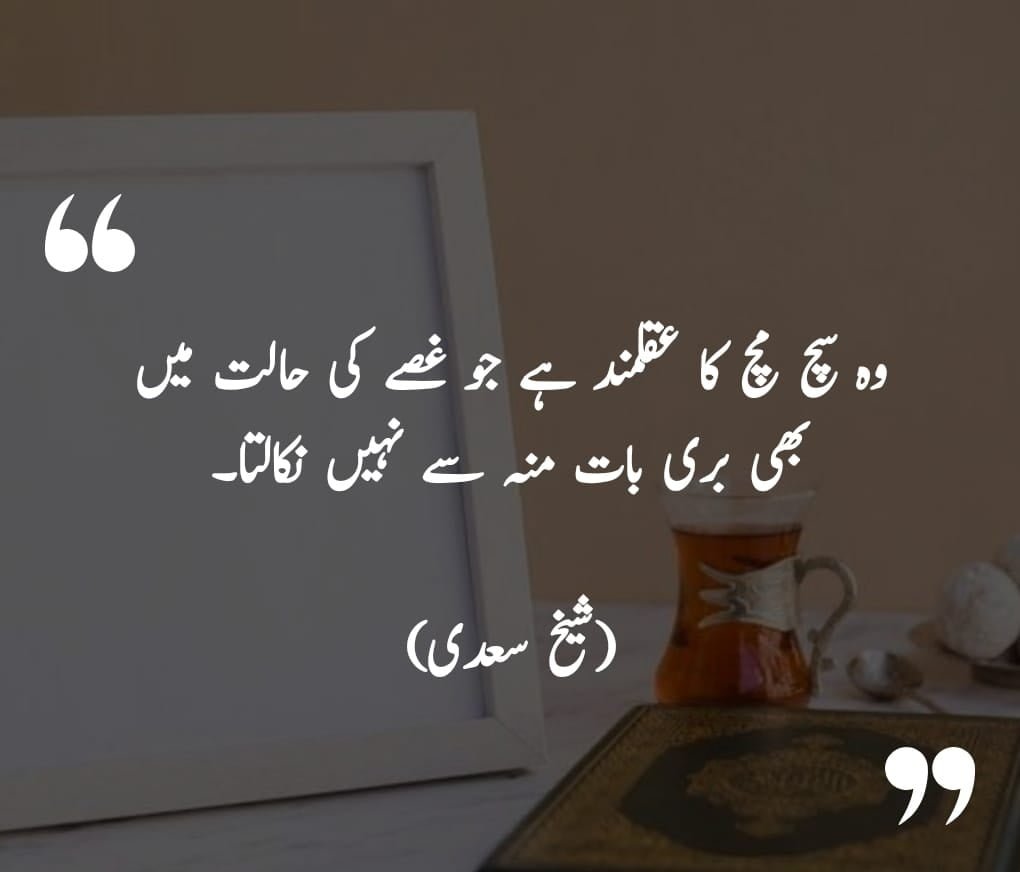 وہ سچ سچ کا عقلمند ہے جو غصے کی
حالت میں بھی بری بات منہ سے نہیں نکالتا۔

Wo sach Sac ka Aqalmand hai jo Ghusy ky
Halat main bhi bury bat Munh sy nahi Nikalta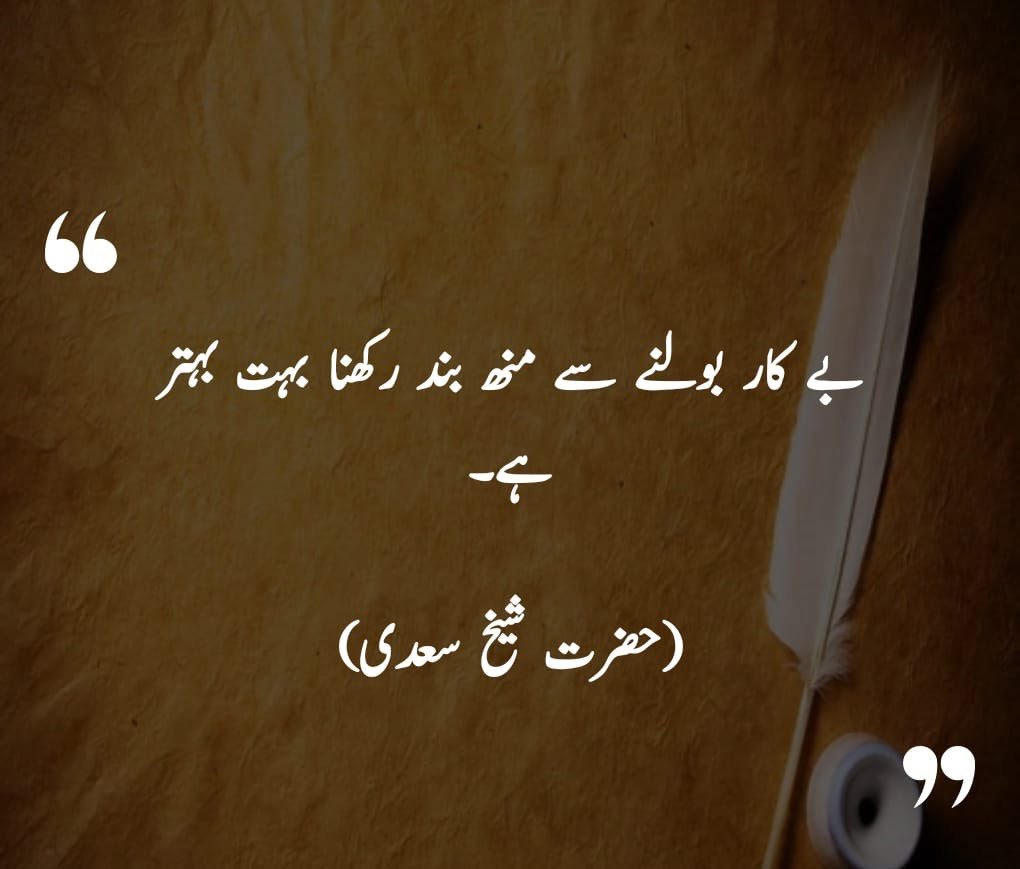 بے کار بولنے سے منھ بند رکھنا بہت بہتر
ہے۔
(حضرت شیخ سعدی)

Bekar Bony sy Munh band Rakhna Bohot Behtar hai

صبر رکھو ہر چیز آسان ہونے سے پہلے مشکل
ہوتی ہے۔
(حضرت شیخ سعدی)

Sabr Rakho har Cheez Asan hony
sy pehly muskil hoty hai

شیر بھوکا رہنا پسند کرتا ہے کتے
کا جھوٹا کھانا کبھی پسند نہیں کرتا۔
(حضرت شیخ سعدی)

Sheer Bhokha rehna Pasand Karta hai
Kuty ka chota khana pasand nahi karta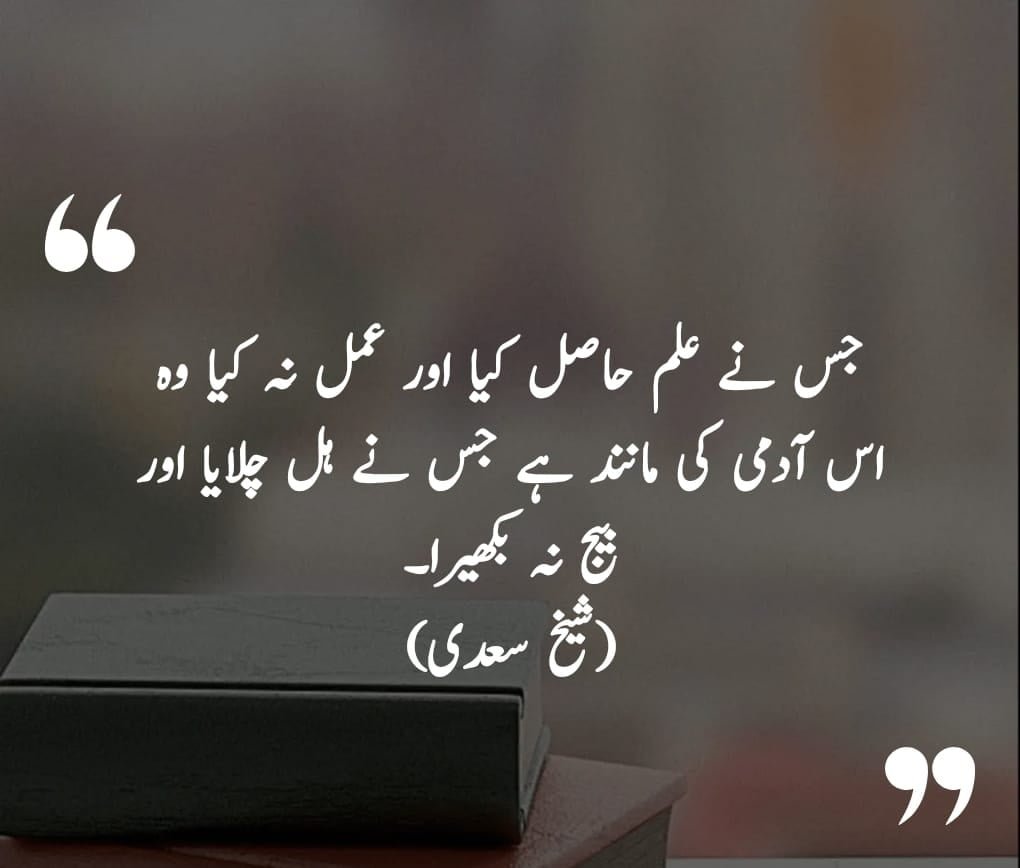 جس نے علم حاصل کیا اور عمل نہ کیا وہ اس
آدمی کی مانند ہے جس نے ہل چلایا اور
پیچ نہ بکھیرا۔

Jis ny Ilm Hasil Kia aur Amal Nah Kia Wo is
Admy Ki manind Hai jis ny hal Chalaya aur
Bheg na Bekhera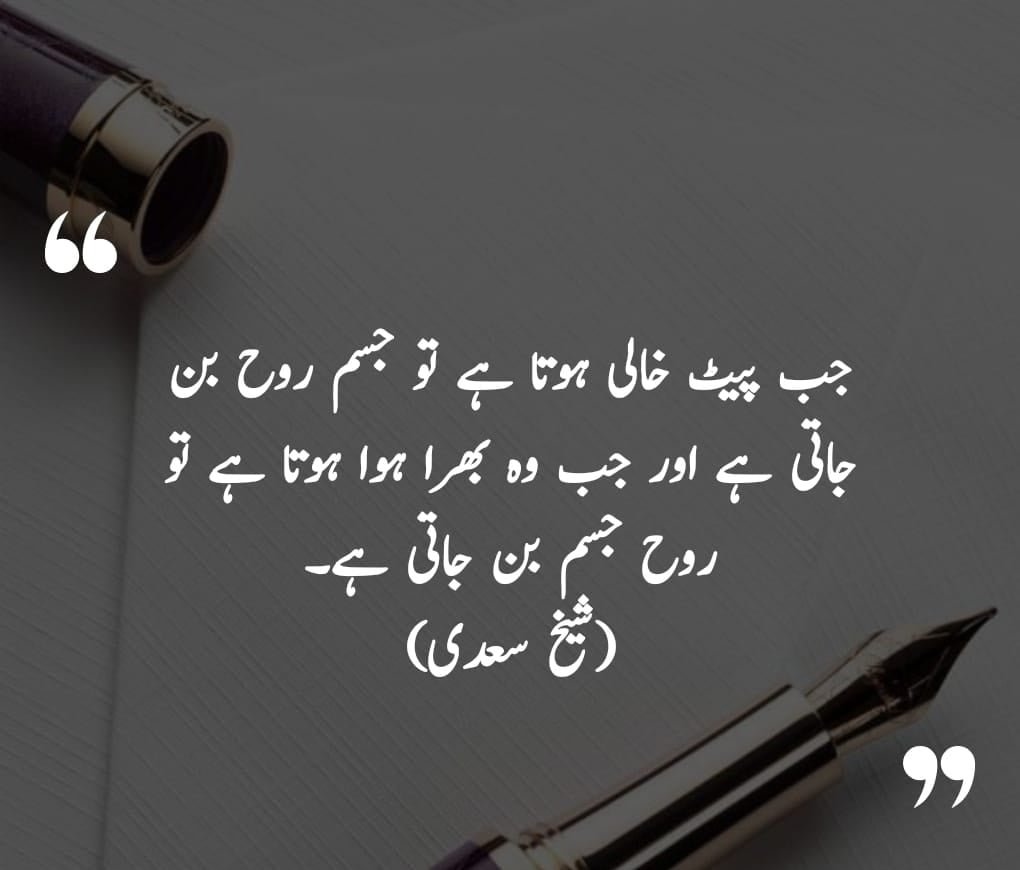 جب پیٹ خالی ہوتا ہے تو جسم روح بن جاتی ہے اور
جب وہ بھرا ہوا ہوتا ہے تو روح جسم بن جاتی ہے۔
شیخ سعدی

Jab Pait Khali hota hai to jisam Rooh Ban Jaty hai aur
Jab wo Bahra howa hota hai to Rooh Jisam ba Jaty hai

So, to sum it up, Sheikh Saadi Quotes in Urdu give us really good advice that lasts forever. These words make sense to people from different backgrounds and places. Whether you need help with love, friendship, or just feeling happy, Saadi's quotes can inspire you and make you think. If we use these quotes in our daily lives, we can become better people and make our communities stronger. Let's take Sheikh Saadi's teachings to heart and share his wisdom with others, spreading positivity and making the world a better place.